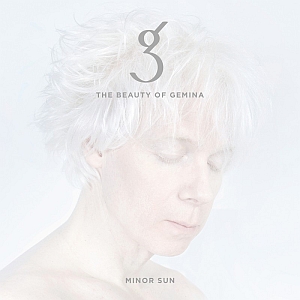 Haunting melodies, urgent arrangements, deep messages, an engaging voice, and clear execution. These are the hallmarks of Swiss cult band THE BEAUTY OF GEMINA, and its mastermind Michael Sele, who have once again proven beyond a shadow of a doubt that they are amongst the very best in their genre. Their seventh studio album 'Minor Sun' (Release: 2. September 2016), features thirteen masterful new songs.
Nothing has been left to chance. Not the music itself, which both enlightens the soul and celebrates the aesthetics of darkness. Not the topics and lyrics, the poetically gentle lantern for the dark corners of society. Not the giant fan community that extends throughout Europe. This and more are the well-earned results of steadfast and continual development over the years. THE BEAUTY OF GEMINA will celebrate its ten-year anniversary with a few selected concerts all over Europe.
The album 'Minor Sun' is in fact a birthday present dedicated first and foremost to the band's most loyal fans, who have been eagerly awaiting its release. The pre-released single 'Crossroads' - the album's only cover version - was viewed over 210,000 times in just four weeks. This is a truly impressive figure that speaks to the building anticipation amongst fans.
Those looking to classify THE BEAUTY OF GEMINA, might choose Dark Wave, a genre characterised as dark, forlorn, lamenting yet longing.
"That's probably not far off. It's an apt description of the scene in which our music has struck a chord and the types of large festivals we play in Europe,"
agreed Michael Sele, before finishing his thought with a wink.
"It fits perfectly to the "little" sun in minor key that we radiate. Because we're not all that dark, in fact musically we're quite bright and colourful. We tackle societal and contemporary topics as a modern rock band, melding soundscape and lyrics into a cohesive ensemble."
With a proven track record of success!
But are such categories even necessary? Do we need to assign music to one group or another? Probably not. Music, after all, is for listening. It invites you to descend and immerse yourself in emotion and to float back to the surface when ready. Music is what we need it to be in a given moment, and the most important thing is that it is moving without leaving you behind. THE BEAUTY OF GEMINA's new album 'Minor Sun' is guaranteed not to leave you hanging.
The soul of TBOG,
"Michael Sele is himself a work of art",
praised the Swiss Magazine Rock The Bow.
"His voice is on par with Nick Cave, and his song writing, his compositions and his arrangements are currently amongst the very best in his respective genre."
What more can be said?
Creativity. This is the driving force deep within Michael Sele.
"I see myself as an observer and not an autobiographical storyteller. I am interested in societal topics, like for example the behaviour of institutions as well as their effects on people. But also in people themselves... their existence and experiences. These are the threads that I weave into my songs. And I would like to point out that it is the message, and not the content of a song, that really counts. If a song is unable to find the right words, then it makes no sense. The topics that move me are not meant to be understood by me alone. These messages need to be transported like a vehicle on stage. In this sense, I am more of a «life companion» for the people who love our music. Often such people are middle aged and have experienced a lot in life. Their biographies include highs and lows, and even sometimes breaks. Such people are lone wolves who find a pack, and solidarity, amongst the audience at our concerts. Sometimes people travel from thousands of kilometres away to be a part of this community. This is greatest compliment they can pay to our music. I am so very grateful."
Current Video 'Crossroads':
https://youtu.be/IYJZ6_fQEzM
Tour Dates:
24.07.2016 (DE) - AMPHI Festival, Köln
20.09.2016 (GB) - Sacrosanct Festival, Reading
29.09.2016 (DE) - Bochum, Rockpalast
30.09.2016 (DE) - Rostock, M.A.U. Club
01.10.2016 (DE) - Annaberg, Alte Brauerei
06.10.2016 (DE) - Frankfurt, Nachtleben
07.10.2016 (DE) - Hamburg, Logo
08.10.2016 (DE) - Berlin, Musik & Frieden
09.10.2016 (DE) - Munich, Backstage
29.10.2016 (FR) - Paris, Le Batofar
12.11.2016 (GR) - Athens, Death Disco
19.11.2016 (CH) - Zürich, X-TRA
25.11.2016 (AT) - Wien, Schattenwelt Festival
17.12.2016 (BE) - Waregem, Dark X-mas Show Athen, Death Disco