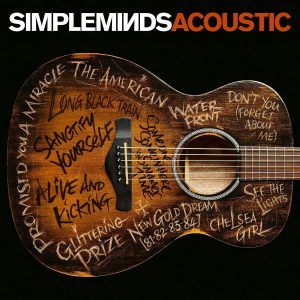 On 11th November Simple Minds will release SIMPLE MINDS ACOUSTIC via Caroline International. This follows several years in which the band has gone from strength-to-strength, becoming more relevant than ever; the 2014 album BIG MUSIC received across the board praise, with MOJO magazine declaring it "their best album in 30 years".
SIMPLE MINDS ACOUSTIC continues the band's artistic quest with a one-off album release of stripped down and re-imagined songs spanning their eclectic and illustrious career. On the lead single Promised You A Miracle, the band are joined by fellow Scot KT Tunstall, whose distinctive vocals, acoustic strumming and rolling bass groove transform a piece of music that was the band's first 'pure pop song' when it arrived in 1982.
On SIMPLE MINDS ACOUSTIC the band have found a way of doing the acoustic thing without losing their essence, and a dozen Simple Minds songs loved by millions now sound more organic and even more likely to leave a lasting imprint. The synths are no more – but the Celtic soul remains.
The first 1000 copies pre-ordered of the CD are signed by Jim & Charlie !
Preorder now
!
"Our songs mean a lot to people, so we had to be careful," sagt Jim. "It wasn't a case of just knocking up some acoustic riffs. We had to show respect to the songs and retain everything that made them good in the first place, and we wanted to create a Simple Minds party album, not a traditional, introspective acoustic album – more something that people will play during goods times. This experience has reinvigorate and excited us about the potential of new songs, which we'll begin recording soon."
SIMPLE MINDS ACOUSTIC - CD TRACKLISTING:
01. The American
02. Promised You A Miracle (featuring KT Tunstall)
03. Glittering Prize
04. See The Lights
05. New Gold Dream (81-82-83-84)
06. Someone Somewhere In Summertime
07. Waterfront
08. Sanctify Yourself
09. Chelsea Girl
10. Alive And Kicking
11. Don't You (Forget About Me)
12. Long Black Train
VINYL EXCLUSIVE BONUS TRACKS:
13. Stand By Love
14. Speed Your Love To Me
15. Light Travels
Source: Press Release