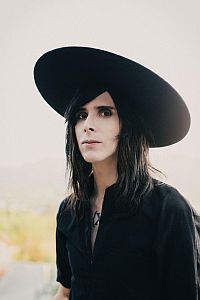 IAMX
mastermind Chris Corner has overcome the depressions of recent years. 'Alive In New Light' is therefore the more than symptomatic title for a new beginning and leaving behind the demons, who haunted Chris as a person and artist for a long time. 'Alive In New Light' documents this metamorphosis in an unprecedented way. It's also a big thank you to the fans who have been loyal to him for years and an invitation to join the next IAMX phase.
The album was recorded and mixed in the California desert in a trailer with a view onto the mountains, "far away from the Joshua Tree hippies", as Chris puts it. 'Alive In New Light' contains nine stunning songs that add a new dimension to the term "alternative electronica", also thanks to Chris' great vocal performance and fabulous widescreen production. For Chris, 'Alive In New Light' is catharsis and at the same time entering into a new connection with his fans.
One of the hits of the record is definitely 'Mile Deep Hollow', which has already been heard in the great TV series 'How to Get Away with Murder', which is now the 15th (!) IAMX track being used for this ABC-Hit. Tattoo / make-up artist and last but not least IAMX super fan Kat Von D. can be heard on four of the new songs. "We could swap wardrobes and make-up - no-one would know a difference," says Chris, analyzing the couple's kinship. "We're both extremely creative, not because we really want it, but because we have to be." The release of 'Alive In New Light' is accompanied by a series of erotic merchandise articles.
The album will be released on 2nd February 2018 via Caroline / Universal.
German Tour Dates
15.03.2018 (DEU) München, Strom
19.03.2018 (DEU) Dresden, Beatpol
20.03.2018 (DEU) Hamburg, Mojo
21.03.2018 (DEU) Berlin, Kesselhaus
Tickets: https://www.musicglue.com/
IAMX/events-slash-tickets
Source: Press Release