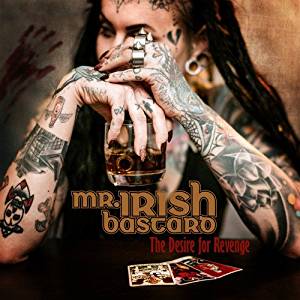 The beginnings of a band are usually less glorious. When the band started in 2006 to shake the world positively with fast-paced and high-pitched anthems, the stages were so small that half of the musical conviction offenders fell behind. Today, three studio albums and a good 700 gigs later, including shows in China, Japan, and busy festival stages alongside THE POGUES, FLOGGING MOLLY, DROPKICK MURPHYS, and THE LEVELLERS, the troupe has long been an internationally acclaimed folk-punk band. With their new album, 'The Desire For Revenge' (release 2nd March 2018), MR. IRISH BASTARD start into the second decade of their existence with the energy of freshly delirious music crazies. But also with the urge to illuminate new details of their music. 'The Desire For Revenge' is positioning, continuation, new beginning and reflection at the same time.
You could find the guide to idealism in the new album, if you absolutely have to look for a reference to the status quo of punk rock, the DNA of Irish folk music has long gone with the pride of the lover's blood. Of course, MR. IRISH BASTARD do not serve the bad habit of playing a folk-punk style chart hit on 'The Desire For Revenge'. But their urge to communicate in the new original compositions is far too exuberant. And if they decide to pull something out of the cover hit box, it's only an optional sublime or tough parody. But that's a live story...
'The Desire For Revenge' was recorded by the band's core team: Mr. Irish Bastard, Gran.E. Smith (Mandolin, Banjo, Bouzouki), Beouf Strongenuff (bass) and drummer Ivo K'Nivo. Along with the so-called "Travelling Bastards", who support the band in various love constellations, also guitarists P and Moe Leicester as well as B.B. on accordion and tin whistle expert Kate joined the band in the studio. A new dimension in sound is added by the violinists Laura Zimmermann and Mona Kaczmarczyk.
Of course, live is also pretty much about in 2018 ... here the current dates ...
MR. IRISH BASTARD (promoted by EXTRA TOURS) live presented by Ox, Slam, eventim.de, livegigs.de:
09.03. Hamburg, Logo
10.03. Braunschweig, Eulenglück
16.03. Essen, Turock
17.03. Munich, Backstage
23.03. Frankfurt, Nachleben
24.03. Cologne, Jungle
29.03. Magdeburg, Factory
30.03. Berlin, Musik + Frieden
31.03. Rostock, MauClub
06.04. Hanover, Lux
07.04. Dresden, Scheune
Tickets:
https://goo.gl/fBXZu5
Festivals:
14.04.18 Dächingen - Rocknacht / Frühlingsfest
27.04.18 Aarburg – CH – Musigburg
28.04.18 Saarwellingen – Antattack
26.05.18 Visbek Visbek rockt
1.-3.06.2018 Kiew - Irish Fest
23.06.18 Abendberg - Feuertanz Festival
30.06.18 Würzburg - Mission Ready F.
14.07.18 Büsum - Irish im Koog
21.07.18 Weiler - Krawall im Stall
03.08.18 Feraltorf CH - Highlandgames
31.08.18 Gießen - Freudentanz Festival
Source: Press Release