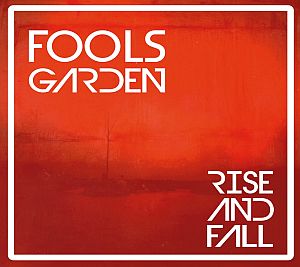 FOOLS GARDEN, the band founded in 1991, presents itself very matured and versatile on their tenth studio work. Their current album, 'Rise And Fall' (release 20th April 2018) offers a very varied song collection, which not only comes along very independently, but also maintains classic-timeless qualities in composition, interpretation and arrangement. "This time around we wrote a very special discipline when writing the songs," says singer / composer Peter Freudenthaler. "A song could only be put aside when it was completed in its structure, so that it could later be recorded in the band's own studio." Check out the first single 'I Burn' here:
It has been an audibly more effective creative process with convincing results. The 14 always very melodious titles cover a wide range of styles. Examples include the opulently arranged mid-tempo opus 'I Burn' (reminiscent of A-HA or COLDPLAY because of the falsetto chorus), the soulful acoustic ballad 'Marie Marie' or the atmospheric, minimalist 'All We Are', which Freudenthaler dedicated to his son. With the electronically flowing 'Still Running', FOOLS GARDEN is even opening up new terrain!
On one side, the CD, recorded in excellent, transparent-dynamic sound quality, sometimes gives off a hint of melancholy, then again, the catchy acoustic guitar-supported 'High Again' as well as the sing-along tracks 'Shame' and 'Save the World Tomorrow' set the counterpoint that make this musical diary a big whole. And since they play music on the basis of well-tried values, it does not come as a surprise that the up-tempo rocker 'Boys' blasphemes over the pabulum in broadcasting: "The radio is playing the same songs all the time, they stick in the rotation, send shivers down my spine. I don't feel connected".
If the monotony of the airplay also leaves you cold or even anode, then FOOLS GARDEN offers a varied alternative with 'Rise And Fall'.
The album release is followed by a tour. Here are the confirmed dates:
19.04. DE - Freiburg, Jazzhaus SWR 1 Radiokonzert
23.04. DE - Saarbrücken, SR3 Radiokonzert
25.04. DE - Mainz, SWR 1 Radiokonzert
03.05. DE - Berlin, RBB Radiokonzert
05.05. DE - Mühlacker, Mühlacker Frühling
02.06. DE - Saarbrücken, Tag der Organspende (13:00 Uhr)
02.06. DE - Bad Schwalbach, Landesgartenschau (18:00 Uhr)
09.06. DE - Berlin, Open Air Kindl Bühne Wuhlheide (Berliner Rundfunk Open Air)
15.06. DE - Spremberg, Freilichtbühne
16.06. DE - Kamenz, Hutbergbühne
22.06. DE - Obersulm, Schloss Affaltrach
21.07. DE - Cologne, Kölner Lichter (Gäste bei Guildo Horn)
03.08. DE - Lüdenscheid, Kult.Park
10.08. DE - Rockenhausen, Schlosspark Open Air
11.08. DE - Eppstein, Burg Eppstein
18.08. DE - Bad Säckingen, Bufedo
25.08. DE - Rehda-Wiedenbrück, tba
07.09. DE - Tui Cruises "Mein Schiff" (until 11.09.)
07.12. DE - Schwelm, Ibachhaus
22.12. DE - Knittlingen, Cellarium
Source: Press Release