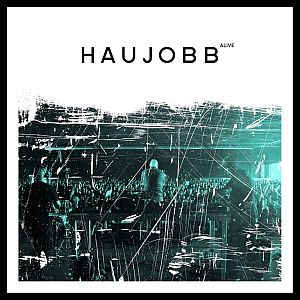 Haujobb is a German duo which celebrates its 25th anniversary with this new live album. Their career has seen them operate across the underground electronic music spectrum, embracing electro-industrial, ambient, techno, IDM and other styles, and they remain popular to this day. 'Alive' is a career-spanning collection featuring many of the group's best known songs, recorded live at recent concerts in mainland Europe, and it stands as a testament to their prowess and creativity.
Haujobb was formed in 1993 by Daniel Myer, Dejan Samardzic and Björn Junemann, their name chosen from an appropriation of the German translation of 'skin job' used in the movie Bladerunner. Junemann left two years later and the line-up has consisted of the remaining duo ever since.
Over the course of four albums in the latter half of the 90's, Myer and Samardzic wove drum 'n' bass and IDM influences into their music, although they actually ended the decade with a downtempo collection of ambient compositions entitled 'NinetyNine'. Subsequent releases have reintroduced more rhythmic elements back into their sound and they have continued to experiment, drawing on a variety of electronic genres. Their most recent studio album, 'Blendwerk' (2015), was minimal-wave influenced, in some ways bringing their music back to its synth-pop, post-punk and new wave source.
Aalbum track 'Let's Drop Bombs':
Myer and Samardzic continue to record as Haujobb, while Myer has several other projects of his own and has also created music for Xbox games.
Source: Press Release