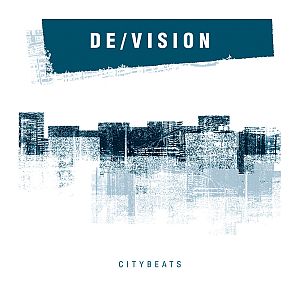 Not only are DE/VISION celebrating their 30th anniversary this year, they are also presenting their new album 'City Beats' on June 22, just two years after their last work '13'. The thirteenth studio album from duo Steffen Keth and Thomas Adam not only marks a new beginning on the producer side. In 2016, DE/VISION decided to have the final touches of their songs done with Ken Porter (intuition) and Stan Cotey. The final touches to their songs were made with the Berlin duo resulting in a no.11 chart placing, the best so far in the band's history. The initially daring experiment of not working personally with the producers on this album, but instead sending music files has succeeded in every respect and has encouraged DE/VISION to consistently continue on the road to success with their new album 'City Beats'.
After Steffen and Thomas extended their musical horizons for their long-term career and showed a refreshing burst of experimentation, they have created catchy synth pop-beads with this album. They demonstrate their unrestricted succinct qualities, which are also clearly distinguished in this successor 'City Beats'. The opening track, 'In The Still Of The Night' with a loose-paced groove and DE/VISION-typical earworm chorus, paves the way for an album that, according to the title of the album, radiates seductively rhythmic character. 'Joys Of Paradise' is driven by shimmering beats and seduces with haunting melodies, which Steffen accentuates with his charismatic voice.
'Dystopia', on the other hand, wanders on gloomy paths and forms the nevertheless hypnotic-sounding soundtrack to the pessimistic view of the world, as expressed by Thomas in some of the lyrics on 'City Beats'. Songs like 'Not In My Nature', 'Under Heavy Fire' or 'A Storm Is Rising' thematize the fear of the collapse of civilization through warmongering, destruction of nature, worship of false gods and not least human stupidity and power-hungry, hypocritical politicians. As with '13' Thomas worries also on the new album about over-reach of the surveillance state.
"I feel more and more like in Orwell's "1984". I'm sure that everyone who read this book, not just our generation, but also many who came before and after us said, 'In such a world, I wouldn't want to live'. But now many seem to have forgotten this and we are watching as this fiction becomes more and more reality. But one thing you always have to keep in mind: there will be no less state of surveillance in the future, on the contrary, it will always be more."
The first single release, 'They Will not Silence Us', on the other hand, represents a classic DE/VISION pop jewel that will work both in the club and on the radio with its danceable rhythms and strong harmonies. Of course, other songs have the irresistible hit potential with which DE/VISION has shaped the scene for more than a quarter of a century. Above all, 'Not In My Nature', 'Under Heavy Fire' and 'I Do not Believe In A Broken Heart' are stand out tracks, but Steffen and Thomas with their producer duo present again and again calmer, thoughtful tracks on 'City Beats', which emphasize the thematic and musical diversity of the band. Compared to the pessimistic 'Dystopia', for example, 'The Brightest Star'" raises the hope that not everything seems lost.
"Basically, it's about finding the good in the world, a glimmer of hope in the dark of the night, a person who gives you back the belief in humanity,"
explains Thomas.
"Every now and then you meet such people, this can be a loved one or a person who admired for some reason, a kind of role model or personal hero."
'A Storm Is Rising' surprises with a slight rock appeal, which is emphasized by Steffens slightly more distorted vocals, whereupon the complacent 'Last Goodbye' concludes the regular album. The limited edition bonus CD not only features two other versions of the album's 'They Will not Silence Us', but three notable non-album tracks: 'Reclaim Your Throne', 'I Do not Believe In A Broken Heart' and 'A Demon's Hand, Buddha's Heart'.
Of course, DE/VISION will present their new album again extensively on German stages. On the 21st & 22nd December in Berlin's Columbia Theater they will once again celebrate their 30th anniversary. The "dress rehearsal" in April with the founding members Stefan Blender and Markus Ganßert was a great success.
"We did not really know how it would be, if it felt weird, but when we met rehearsals a few days before the concert, it felt like it used to, at least that's how I felt, almost as if we had never been separated."
However, fans will have plenty of time to let themselves be enchanted by the qualities of the new album before the tour starts in October, as 'City Beats' impressively demonstrates how mature Steffen and Thomas are in their songwriting. The musically and thematically multi-layered songs sound refreshingly modern, drive with striking rhythms in the clubs and with the grandiose sound create numerous Goosebumps moments that will have a long lasting effect.
Source: Press Release / Artwork by Dennis Burmeister