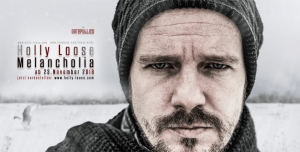 For many years HOLLY LOOSE has thought about making a solo album with music that comes just from him and from his heart. Now is the time he can tell you that the "saddest album in the world" is finally in the starting blocks. The songs are all finished and recorded. At this point Holly would like to express his sincere thanks to Peggy Hoffmann, Lou Liberté Burchardt (back vocals), Stephan Klement (guitar), Sebastian Meyer (drum) and Silke Meyer (violin, back vocals), for their decisive contributions to the sound world in his mind as the songs became music that EVERYONE can hear. Of course, Holly hopes very much that you, like the musicians themselves, can put yourself into this music and lyrics and let them carry you. He recommends an evening and one or more bottles of red wine or whiskey as accompaniment.
Now there are just a few more steps and a bit of perfect luck to be able to publish this album as a CD. Holly has been thinking a long time about how to do it: Should it be a crowdfunding project? Can he afford to release the album without any help from the "industry"? He had to turn both options down. He would like to release the album on November 23, 2018 completely independently… so to speak on its own… and he asks for your attention.
In order to cover the costs for the album pressing, GEMA etc., Holly will start the presale from now on. You can pre-order this album now for € 15.00 and receive it on 23rd Nov 2018:
Holly Loose - Melancholia (Digipack € 15.00) - https://www.holly-loose.com/shop/melancholia-digipack-voe-12-12-2018-melancholia-digipack/.
He also came up with a second idea, the "little crowdfunding package", so to speak, for those who can and would support him a little more. Here for 25.00 €, you receive the album, plus another surprise in the package, related to the album and with him. Some ideas are already on the table. Again, this all depends significantly on you and your support: Holly Loose - Melancholia (Supporter Package incl. Audio CD. € 25.00) - https://www.holly-loose.com/shop/melancholia-box-cdbuch-2500-e-voe-12-12-2018/.
But that is not all - Holly wants to present you in November one song from the album. As its title implies, it is a space of sadness and melancholy, of delicately orchestrated lyrics and music. 'Melancholia' is therefore intended for the quiet moments, the dark evenings, the solitude of a night warmed by the campfire. Once you have heard it, you may think of LEONARD COHEN and JOHNNY CASH or feel reminded of TOM WAITS and VELJANOV. Well, he has his very own picture of this album and you too will make your own pictures.
And so now let's come to the first song! The text is written by none other than the great poet Theodor Fontane, who would have turned 200 next year. This song is one of three cover songs on the album 'Melancholia'. You can buy it now as a download on iTunes, Amazon etc. or as a stream at Spotify etc. Please enjoy a small, visual taster here:
Source: Newsletter