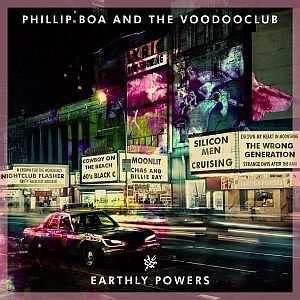 German Indie star PHILLIP BOA AND THE VOODOOCLUB will release their 19th studio album, 'Earthly Powers', via Cargo Records on August 10. The first single from the upcoming album is 'A Crown For The Wonderboy', the video is already online. "The song is carried by Phillip Boa's relaxed, distinctive vocals, in the background duelling playful indie riffs." - visions.de. The record begins with a hit that quickly scored nearly a quarter of a million plays on the web. 'A Crown For The Wonderboy' has crisp guitars as well as a first-class chorus tune that optimally conveys the energy of the band. The song tells of the egoism of those days, the obsession of constant self-optimization and self-staging, and visualizes the grimness of human beings between longings, warmth, unreasonableness on the one hand and the digital cold of the present time on the other.
Watch the video for 'A Crown For The Wonderboy' here:
'Earthly Powers' was produced by David Vella, PHILLIP BOA and Ian Grimble in London and Malta in 2017 and 2018. It was finally mixed by Ian Grimble (DAUGHTER, MUMFORD + SONS, TEMPLES, MANIC STREET PREACHERS) at Church Studios, London and mastered by Fred Kevorkian (THE NATIONAL, SONIC YOUTH, WHITE STRIPES) at Power Station, New York. You can imagine the twelve songs on 'Earthly Powers' as episodes that tell of the times, and BOA sings about the present, looking back on the paths he has taken in recent years
. "Essentially it's an album about freedom,"
he says.
"It tells us that it's worth fighting for freedom. But also from the fact that today many people confound freedom with egoism and hedonism."
BOA goes his own way, does only what he is really convinced of. And this stance comes true: In 2012, his album 'Loyalty' went up to #13 on the album charts, 'Bleach House' cracked even the top ten in 2014, charted at number 7. BOA plays live in growing halls, in 2017 he sold out the Huxleys in Berlin for two days in a row.
"It's all going well,"
he says, grinning almost embarrassed. The arrogance he once used to protect himself has vanished. Today, BOA is still outlandish, but also: grateful.
'Earthly Powers' is exactly the album that had to come in. A big statement,
"A reminder of this art form, knowing that it is endangered,"
says BOA. PHILLIP BOA AND THE VOODOOCLUB will go on a major tour through Germany from January 2019, the exact dates will be announced. Here you can pre-order 'Earthly Powers': https://voodooclub.lnk.to/earthly-powers
Tracklist
01. A Crown For The Wonderboy
02. Cowboy On The Beach
03. Nightclub Flasher
04. The Wrong Generation
05. Drown My Heart In Moonshine
06. Moonlit
07. Silicon Men
08. Strange Days After The Rain
09. Cruising
10. 60's Black C
11. Chas And Billie Ray
12. Dirty Raincoat Brigade
Source: Press Release