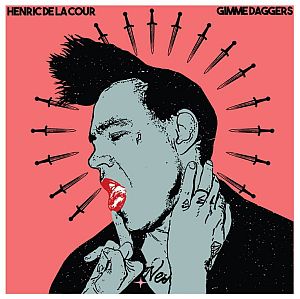 Finally the long wait is over. It's been four years since Henric de la Cour presented the last album 'Mandrills'. With 'Gimme Daggers' Henric de la Cour presents his most complete work up-to-date as a soloartist. The first two singles, 'Two Against One' and 'Worthless Web', has given us a fingerpoint on where Henric has been heading. Now, Progress Productions also released the brand new single 'Kowalski Was Here'. Get it on Bandcamp: https://henricdelacour.bandcamp.com/track/kowalski-was-here.
'Gimme Daggers' will be released as CD / Limited Edition 2CD and as a Limited Edition Vinyl Version. The Limited 2CD will be released in only 200 copies worldwide and the additional CD holds two exclusive tracks and is handsigned ny Henric de la Cour it also holds an additional inlaycard which is handnumbered. The vinyl edition is pressed on heavy vinyl, reversed board print, printed innersleeves with lyrics and UV lacquer finish. One of the most exclusive vinyls we have ever done!!! Limited to 500 copies worldwide.
Tracklisting CD/VINYL
01. Slow Death Intro
02. Kowalski Was Here (Listen on Spotify)
03. Two Against One (Listen on Spotify) (View video Youtube)
04. Body Politic
05. Driver
06. Hank Sometimes
07. Mr. D
08. New Building
09. Teeth, Please
10. Worthless Web (Listen on Spotify)
11. Arkham Supermarket
12. Fury
Additional tracks for the limited 2CD edition:
01. Close My Eyes
02. Forbidden
PLEASE NOTE THE LIMITED EDITION 2CD EDITION IS STRICTLY LIMITED TO 2 COPIES / ORDER!
Source: Newsletter