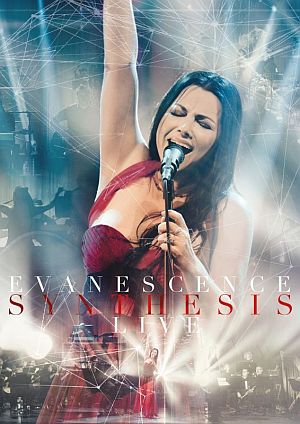 "This comes from the core, the heart of the original vision for Evanescence". - Amy Lee
On October 12, 2018, EVANESCENCE, 'Synthesis Live' will be released on Eagle Vision on DVD, Blu-ray, DVD + CD, Blu-Ray + CD and Digital Video. The filmed concert took place in the late autumn of 2017 during the worldwide celebrated "Synthesis Tour" by director P.R. Brown and producer Craig Ziogas / CTGS Productions recorded in fantastic 4K.
On the setlist were songs from the entire 20-year band career - re-implemented with a complete orchestra in front of a rich, electronic soundscape. Live on stage, 'Synthesis' is a highly emotional and breath-taking event. Seated at the piano, singer Amy Lee opens the performance with a single note that transitions into an instrumental overture and then seamlessly joins the furious 'Never Go Back'. 'Bring Me To Life', the anthem with which many people came to EVANESCENCE in 2003, is in this version with a pumping, electric heartbeat and magnificent orchestral accompaniment even more powerful and emotionally charged. Songs like 'My Immortal', 'Lithium' and 'Lost in Paradise', in turn, are reminiscent of touching, timeless film scenes.
Amy Lee's extraordinary vocal range and the complex, expressive music of the band are indeed made for orchestral accompaniment. The arrangements of the composer David Campbell are intoxicating and together with the work of the conductor Susie Seiter, a very dynamic and broad sound is created. Lee herself described it as a heart project and you can see that very clearly. Both the band and the audience feel that this is a very special evening.
With 25 million albums sold to date, EVANESCENCE is one of the world's most successful Rock bands. Their debut album, 'Fallen', spent 43 weeks in the American Billboard Top 10. It has been awarded platinum seven times in the United States. The debut single and worldwide hit, 'Bring Me To Life', reached #5 on the Billboard Hot 100 and #1 on the British charts. 'Fallen' is one of only eight albums in music history to date on the Billboard Top 50 for at least a year, and even spent 104 weeks on the Billboard 200. The album is featured on #32 of the "Greatest Of All Time, Billboard 200". In addition, EVANESCENCE was nominated for Grammy Awards seven times and was voted "Best New Artist" and "Best Hard Rock Performance".
In recent months, EVANESCENCE has presented their highly successful 'Synthesis' live tour worldwide and have been acclaimed by critics and fans across Europe, North America and Australia. Their joint amphitheatre tour with violinist Lindsey Stirling is one of Live Nation's top 10 tours this summer.
"The sublime presence of Ms. Lee in combination with Mr. Campbell's arrangements was hard to resist." - Wall Street Journal
"Amy Lee claims her place as one of the towering voices of rock music - with an impressive scope and punch this time she recorded it with an entire orchestra." – Variety
Track listing

01. Overture
02. Never Go Back
03. Lacrymosa
04. End of the Dream
05. My Heart is Broken
06. Lithium
07. Bring Me To Life
08. Unravelling (Interlude)
09. Imaginary
10. Secret Door
11. Hi-Lo
12. Lost in Paradise
13. Your Star
14. My Immortal
15. The In-between (Piano Solo)
16. Imperfection
17. Speak to Me
18. Good Enough
19. Swimming Home
Source: Press Release