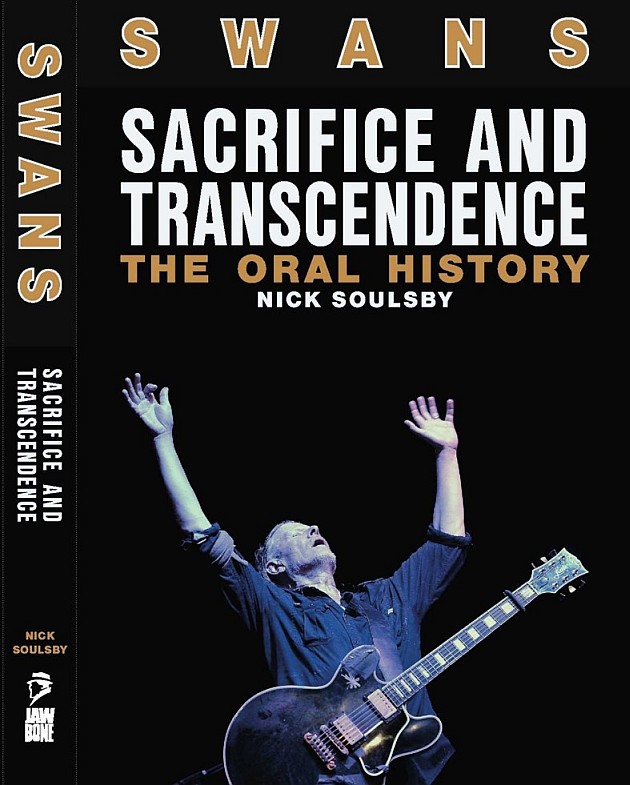 'SWANS: Sacrifice And Transcendence', the first book to focus on Michael Gira's legendary troupe of sonic terrorists is out now. 125 interviewees tell the story of how a small set of angry youngsters in the fertile chaos of post-bankruptcy New York City morphed into one of the most fearsome live acts ever to grace a stage: the reputed "loudest band in the world."
"I'm no stranger to failure, and I'm aware it can arrive at any minute - as it often has. You have to keep things close to your chest and be aware of what's really important: the work, not everything around it. If you have faith in the work then the people will come… It's an artistic imperative, it has nothing to do with public perception or career or any of that crap."
Working construction by day, rehearsing by night; near penniless and living on cheap beer; SWANS immediately won a reputation for creating the most vicious intensity to grace a stage anywhere in NYC - as well as for shell-shocked crowds, police intervention, complete alienation. Clawing their way forward, the band self-funded recording sessions and emerged with material that still sounds original at 35 year distance: 'Filth', 'Cop', the infamous 'Raping A Slave'. The book, told through the memories of more than 30 former members of the band, follows them as notoriety became reputation and audiences embraced a sound like no other.
At the centre of the book stands Michael Gira, a man determined to realize his artistic vision, an approach to the building blocks of music struck through with startling alienation and originality. Surveying the band's collapse in 1997 in the light of its triumphant return in 2010 with acclaimed albums including 'The Seer' and 'To Be Kind', the book asks whether there is something unique in Gira's approach that has allowed SWANS to weather the years, never compromising, never repeating, always making work of singular impact. It also asks the cost in lost friendships, fractured relationships, public displays of frustration and crackling tension on stage.
The first and only book to tackle SWANS - and with a wealth of first-hand accounts from individuals ranging from Thurston Moore to Jim Thirlwell, Bill Laswell to Lydia Lunch - 'SWANS: Sacrifice And Transcendence- shows how far a band can be willing to go, how much a human might endure, to unleash their music on the world.
"Michael as an energy - as a force - was one of the greatest things I'd ever seen… the New York shows were the utter peak. It was the end of summer, literally 110 degrees, you could cut the air with a knife. I see this man furiously playing - I seriously thought, 'This is insane, he's going to drop dead!' The crowd was roaring, and he played until he collapsed, basically. Maybe a year later, he admitted to me that he hadn't been in a good place, emotionally - that he'd been trying to die that night. I certainly saw it. They all looked like they were going to die."
Source: Press Release