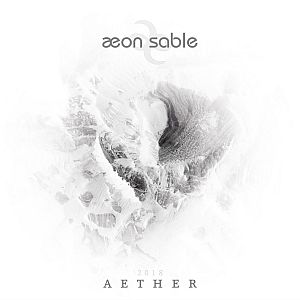 Music can make us burn bright and hot and ultimately bring us salvation. AEON SABLE is always about the big themes and the deep black abysses and this is exactly what the sixth album, 'Aether', reveals with every sound. Especially in the song 'Burn for Salvation', which does not only evoke the salvation of our destiny, but together with some others also shows how overwhelming the compositional art of the band and how vociferous the singing of Nino Sable has become in the meantime. This is about the torments in the interior, deeply felt grief and melancholy, here fears are summoned and the subconscious demons downed.
AEON SABLE cannot be squeezed into genre boundaries, they skillfully and again transcend the lines between Gothic Rock and Metal, between heartfelt songwriting and psychedelic music compositions. Each song takes the time to tell its very own story, both textually and musically, which is why you should expect no quick, pleasing pieces, but rather epic, sparkling masterpieces full of drama. In one of the most poignant songs ['O Senhor do Medo' (The Lord of Fear)], Nino Sable skillfully uses the language of the great poets and sings in Portuguese a bleak declaration of love to the place of his origins and his very own lord of fear...
'Aether' is one of the most intense works AEON SABLE has ever created, not only because of the unfettered vocals, but also because of his masterly handling of the darkest compositions of the soul.
Details
Band: Aeon Sable
Country: Germany
Style: Gothic Rock, Post Goth, Doom
Album: Aether
Release: November 2nd, 2018
Label: Solar Lodge
Playtime: 01:03:00
Tracks: 7 (+1)
Distribution: Alive, Audioglobe
Media: CD, Digital Download
Website: http://aeonsable.de
Facebook: https://facebook.com/aeonsable
Shop: http://aeonsable.bandcamp.com
Tracklist

01. Hand of Glory (intro) & The Nihilist
02. Follow the Light
03. Deadlock Canon
04. Burn for Salvation
05. O Senhor do Medo
06. Dark Matter
07. Leaving the Fourth Season (+outro)
Source: Press Release