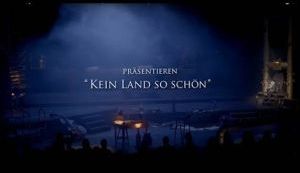 With 'Kein Land so schön' the Musiktheater im Revier, Rüdiger Frank and COPPELIUS release the first complete song from the world's first Steampunk opera: 'Klein Zaches, genannt Zinnober' as a live recording. After a novella by the great E.T.A. Hoffmann presented the music theater in the district of Gelsenkirchen 2015/2016 the musical experiment, a band and an orchestra in an opera project to unite satisfaction on all sides. A complete success! Critics and spectators were enthusiastic about this spectacle.
This extensive project was directed by Sebastian Schwab: COPPELIUS composed in collaboration with MiR-Kapellmeister Thomas Rimes, COPPELIUS performed together with the Neue Philharmonie Westfalen and COPPELIUS played numerous roles on stage - "Klein Zaches" himself and the author E.T.A. Hoffmann was played by the brilliant Rüdiger Frank.
The fantastic story 'Klein Zaches, genannt Zinnober' from 1819 is the special material from which this opera is made: Hoffmann's malformed and out of poverty Klein Zaches comes through a well-meaning spell to the highest honours and gets the opportunity, to compensate his bizarre look for pleasant work, kindness, diligence and courtesy. But he leaves the opportunity untapped and almost destroyed the life and love of the young poet Balthasar to the beautiful Candida.
With the greatest technical effort, impressive props and all kinds of tricks bordering on magic, a spectacle is offered that touches all the poetic senses - in keeping with the dictates of universal poetry. Now the opera is being re-performed on five dates and again promises to cast a spell over all viewers:
08. September 2018, 19.00
09. September 2018, 15.00
30. September 2018, 18.00
01. December 2018, 19.30
31. December 2018, 19.00
Source: Press Release