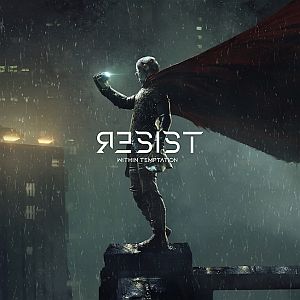 WITHIN TEMPTATION, the legendary performers of gloomy hymns that have been successful in the business for two decades, have announced their 7th album called 'Resist', which will be released on December 14, 2018. 'Resist' marks a departure from the past: The album features ten anthemic tracks of sublime melodies and dark hook-lines that give the metal genre a futuristic twist - both in terms of instruments and thematic.
Front woman Sharon:
"'Resist' is a real milestone for us. Without 'Resist' WITHIN TEMPTATION would not be here anymore. In this album, we got inspired by modern music and then gave it a face - a very bleak face. Sometimes you have the feeling that today's pop music lacks the rebellious. Our most important concern was therefore to assemble pieces of music that we liked and to give them a rough note as much as possible - creating a surprisingly new musical world that is heavier, dirtier and more futuristic than anything we've ever had have created. 'Resist' is our new interpretation of metal: we want to give modern music its rebellious side."
The new sound of 'Resist' announces itself impressively with the bombastic first single 'The Reckoning' (featuring Jacoby Shaddix), which will follow more new singles before the album will be released on December 14th. The band's European tour starts in October and includes 37 dates in 18 countries. More tour dates around the world will follow in 2019.
German Tour Dates
19.11.18 - Cologne, Palladium
08.12.18 - Berlin, Columbiahalle
09.12.18 - Hamburg, Mehr! Theater
16.12.18 - Ludwigsburg, MHP Arena
17.12.18 - Munich, Zenith
18.12.18 - Frankfurt, Jahrhunderthalle
The message of the seventh studio album of WITHIN TEMPTATION is more than clear: RESIST! Sharon says:
"It is important to resist, because in today's society people are being oppressed by social components. A process that is directed by rulers, dictators, but also by major international corporations. We need to get rid of it if we want to develop ourselves, instead of being watched and controlled by a higher power."
This wake-up call runs like a red thread through the tracklist of the seventh album. Four years after the release of 'Hydra,' WITHIN TEMPTATION returns with 'Resist' - a ten hymn-like song-driven record driven by great as well as gloomy melodies.
As a direct successor of the 2014 release 'Hydra', WITHIN TEMPTATION begins with 'Resist' a new musical era, which brings a futuristic idea of metal on the tableau.
"We were somehow through with orchestras and classic metal riffs. We've done that thousands of times before. It was just time to broaden our horizons, so we dedicated ourselves to fantastic artists from other genres with a bombastic sound and fat basses. Suddenly it occurred to us that we also wanted to use these great sounds - but without the often associated artificial. We searched for and found way to make the whole thing rougher and more modern, opening up a completely new and surprising musical world. It's harder, dirtier and more futuristic than anything we've done before."
'Resist' is an album that represents the versatility of WITHIN TEMPTATION's newly discovered metal sound and shows where the band is today:
"After 'Hydra' we did not feel inspired anymore. It even went so far that we saw the end of the band coming. After so many years of music making, only creative inspiration and innovation can motivate one to a new record. During a very long break without hasty decisions, we recharged our batteries with new experiences. For example, I recorded my solo project MY INDIGO. I may have started something like a tide change that has rekindled our desire to do something new, something innovative."
Sharon continues:
"For this album, we got inspired by modern music and gave it a new face - a very bleak one. Sometimes it feels like today's pop music is lacking in rebellion. Our goal was to recombine and roughen individual sound elements that we liked, as much as we could. 'Resist' is our way of giving Metal a new, modern form - with a distinct audible rebellious undertone."
WITHIN TEMPTATION have never been limited, but the band has given a new direction to their creative writing process. The sound on 'Resist' features bombastic tracks like 'The Reckoning' (featuring Jacoby Shaddix of PAPA ROACH), but also extremely profound ones like 'Firelight', which was originally written for Sharon's solo project My Indigo and Belgium's best alternative rock singer Jasper Sterverlink as a guest on board. The single 'Endless War' is one of the most spirited songs of the album with a melodic hook in the chorus.
"The longer we worked on this song, the harder it got. It reflects the vibe of the whole album: a modern sound with relentless riffs and a brutal drum kit that shoots hip-hop beats."
The tempo of the tracklist leaves hardly any time to breathe deeply. 'Raise Your Banner' grabs you with an Alice-in-Chains-like gloom in the neck and then releases you thanks to the magnificent refrain. In this piece, Sharon is accompanied by Anders Fridén, frontman of the Metalcore band IN FLAMES.
"Anders combines melancholic melodies with a hard grunt. It's awesome to see him turn from a very good singer into a screamer and vice versa. That gives the song a whole new dimension."
After two decades WITHIN TEMPTATION are ready to leave their past behind. 'Resist' is without a doubt a metal album that draws its inspiration from our modern, futuristic society - musically as well as personally - transforming it into overwhelming arrangements and sombre melodies. And the most important message at all?
"Defend yourself against organizations that hide at the other end of your computer. Open your eyes to institutions that develop programs to record and analyse your behaviour. Open your eyes to a world dominated by governments that want to make you believe you are a celebration man as they oversee and control every step of your life. Wake up and defend your freedom!"
1CD Standard - CD album (Digi) 'Resist'

01. The Reckoning
02. Endless War
03. Raise Your Banner
04. Supernova
05. Holy Ground
06. In Vain
07. Firelight
08. Mad World
09. Mercy Mirror
10. Trophy Hunter
2 LP - vinyl album 12' 33 rpm 'Resist' Set

Vinyl 1

[1] 01. The Reckoning
[1] 02. Endless War
[1] 03. Raise Your Banner
[2] 01. Supernova
[2] 02. Holy Ground
Vinyl 2

[1] 01. In Vain
[1] 02. Firelight
[1] 03. Mad World
[2] 01. Mercy Mirror
[2] 02. Trophy Hunter
Box Set - CD album 'Resist' Ltd. Standard Box set / 2 CD Deluxe Edition 'Resist' (Digi)

Content Box Set: Digi with 2CD`s, MC, Puppet, Picks (2 pieces), Poker Cards (6 cards)
[1]

01. The Reckoning
02. Endless War
03. Raise Your Banner
04. Supernova
05. Holy Ground
06. In Vain
07. Firelight
08. Mad World
09. Mercy Mirror
10. Trophy Hunter
[2]

01. The Reckoning (Instrumental)
02. Endless War (Instrumental)
03. Raise Your Banner (Instrumental)
04. Supernova (Instrumental)
05. Holy Ground (Instrumental)
06. In Vain (Instrumental)
07. Firelight (Instrumental)
08. Mad World (Instrumental)
09. Mercy Mirror (Instrumental)
10. Trophy Hunter (Instrumental)
Box Set - MC album 'Resist'

[1]

01. The Reckoning
02. Endless War
03. Raise Your Banner
04. Supernova
05. Holy Ground
[2]

01. In Vain
02. Firelight
03. Mad World
04. Mercy Mirror
05. Trophy Hunter
Source: Press Release