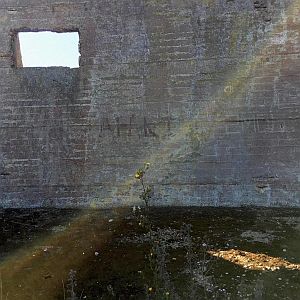 Much-loved indiegoth dreamboats DESPERATE JOURNALIST returned to the thoroughly frayed musical fray with a brand new (and suitably autumnal) single called 'Cedars' on November 2nd. Propelled along by Rob Hardy's startlingly lush guitar and empowered by a frankly cracking chorus from singer Jo Bevan 'Cedars' saw the quartet (see also: drummer Caz Hellbent and bassist Simon Drowner) further hone their sensitive-yet-crushing alt.rock sound, relishing the old school DIY dynamics but never afraid to magic up a shiny modern melody or three, and then always willing to cast a shadow over that sheen.
Happily, 'Cedars' is just the first track to come from Desperate Journalist's forthcoming third album, due for release on February 22nd 2019. The album is called 'In Search Of The Miraculous' and will be available on a veritable pawful of formats, including CD, heavyweight vinyl and limited edition coloured vinyl. If the title conveys a sense of wide-eyed ambition then the music on 'In Search Of The Miraculous' fits the plot perfectly, featuring ten tracks fizzing with creative passion, giant choruses, heroic solos and poetic intensity. "I never liked your favourite band," sighs Bevan at one gently cutting point in 'Jonatan'. Warning: this album contains love songs, anti-love songs and other songs wandering about, lost in an in-between-daze. It's a bit complicated. Or in the words of singer Jo...
"I'm not going to beat around the bush: the album has a fairly high concept (or perhaps pretentious) starting point. it's titled 'In Search of the Miraculous' after the artist Bas Jan Ader's several works centered round his idea to sail across the Atlantic in the smallest craft ever to do so, as a piece of performance art. That action was intended as a culmination of his previous efforts in which he tried to figure out how to express the old Romantic idea of the Sublime in a modern art context, which involved various emotive but oblique actions such as documented falling, confessional crying, walking around his hometown of Los Angeles at night searching for an unnamed person whilst listening to a pop song, and reading aloud from an article about a boy falling off Niagara Falls - man clearly after my own dramatic, melancholic heart.
Because I imbue everything in my life with huge portentous OTT meaning and because I was going through a big new beginning in my personal life which involved a bit of a leap of faith, these ideas particularly resonated with me when we were writing the record (and they still do). When Bas Jan Ader did attempt his trip across the ocean he ended up lost at sea, which was personally tragic but which does in a way give the artwork even more weight - that old idea of the Sublime is (as far as I understand it at least) this elemental perfection of extreme feeling that by definition can't be fully achieved or realised by humans, only by nature - and the way he documented it proved how much of a powerful and brave/naive idea it was for him to pursue. So this is me applying my personal drama and internal feelings to that. "It's an album about the terrifying beauty of hope, and the excitement of possibility. And love. Because it always does come back to that really, if I'm honest."
German Tour Dates
08.05. Hamburg, Hafenklang
09.05. Köln, Blue Shell
10.05. Stuttgart, Merlin
11.05. Münster, Gleis 22
07.09. Leipzig, NCN 2019
Source: Press Release