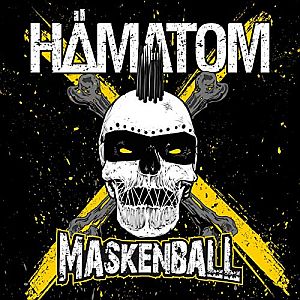 It's nothing new that great events are foreshadowed. But this year, the world is upside down. HÄMATOM celebrate their fifteen years anniversary as a band, so together with the fans, HÄMATOM will let it all hang out! If someone knows how to party hard, then it's the four masked jubilarians.
The band starts with promising announcements into the exciting 15th anniversary year: on time with their legendary "Maskenball" at the Amphitheater in Gelsenkirchen, the album of the same name is released on August 30, 2019. With the album 'Maskenball', which is more than worthy of the occasion, HÄMATOM brings out a gift for themselves and for their fans, and its way is paved with an outstanding birthday calendar. Until release date, on the 15th of each month, there will be a surprise for the fans.
On the album, matching to the four directions, North, East, South and West celebrate four musical styles: the fans will be delighted with new songs, cover tracks and reworked versions of old HÄMATOM classics. Proven and old love in elaborately reworked masks, surprising and unusual sounds, deep and softer tones as well as brutally unmasked high-speed tracks, exciting tributes, insights into the ups and downs of the last 15 years, sharp-tongued, different, happy and against as usual.
Being involved is an unprecedented linguistic diversity and loud voiced guests - on March 15, 2019 it all starts with none other than Hansi Kürsch, the microphone legend of BLIND GUARDIAN. Together with Hansi, the band delivers an impressively strong interpretation of the queen classic 'I want it all'. Watch the belonging video feat. Hansi Kürsch! It triggers the wish to hear the entire album right now.
It is promised, that on the 15th of each month, your time to wait for the album is sweetened. You will get a huge appetite for the anniversary party of the year! 'Maskenball' will be released on August 30, 2019, 'I want it all' is already out! Tickets and any further information regarding the exceptional band available at www.haematom.de.
Source: Press Release