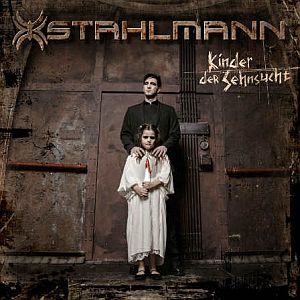 Hard, German-speaking Rock music gets an update right at the beginning of the year. STAHLMANN from Göttingen with their spectacular stage look are always a guarantor for the consequent further development of uncompromising sounds, and that's why they override stuck genre boundaries with their latest album, 'Kinder der Sehnsucht', and present themselves as true steel rope dancers. On March 22, the new masterpiece will be released, and from now on, the official video for the title track is online:
Stoic guitars, cold electronics and brachial lyrics are skilfully mixed with fleet-footed Punk Rock and German Rock elements. 'Kinder der Sehnsucht' breathes musical and lyrical depth and further represents an intoxicating euphoric mood. It holds together all aspects that characterize the German music scene. The band, which once went on and on to confidently perfect the NDH genre, now puts forward with a totally new maturity level and sets an entirely new stylistic benchmark.
Playful, sovereign and ruthless, this is how STAHLMANN paint a picture of the society in word and sound; a society, that aspires for fulfilment and longs for dreams that celebrates friendships, is on the hunt for sensations and drowns itself in sentimentalities. Precisely like a painter, bandleader and STAHLMANN mastermind Mart Soer holds a mirror up to the face of modern society. "Our society is socially more linked with and flooded by information than ever before", said Mart Soer, "and at the same time, it is more lonely, more meaningless and more disoriented than ever before."
But there are also positive images of our society that are portrayed by STAHLMANN's 'Kinder der Sehnsucht'. The song 'Die Besten' is a hymn about friendship. "Friendships belong to the most valuable things that exist", says Mart. "When you can rely on someone and always deal with him honestly, you should celebrate that more often and honour it in this way somehow. Real friendships are worth it." For years, STAHLMANN channel their way upwards step by step. Already with their debut album, 'Stahlmann' from 2010, the band attracted attention, and it just took one more album ('Quecksilber') to enter the Top 40 album charts. Since then, it's like the band has subscribed for the Media Control and club charts.
In the eleventh year of their existing, STAHLMANN set new standards in any direction.
Tour Dates
March 21, 2019 - Bochum, Matrix
March 22, 2019 - Frankfurt, Nachtleben
March 23, 2019 - Nuremberg, Cult
March 29, 2019 - Berlin, Musik & Frieden
March 30, 2019 - Hamburg, Logo
April 6, 2019 - Munich, Backstage
April 12, 2019 - Leipzig, Felsenkeller
Source: Press Release