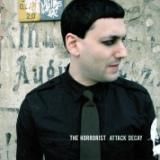 The Horrorist does not require much of an introduction. His 12" "One Night in NYC" still fills the dance floors around the world and is one of those rare examples of an alternative dance track that has effectively managed to penetrate the mainstream. The re-release of his debut album "Manic Panic" has also remained a worldwide seller … and that while sporting a sound that is way out of the ordinary. Always sticking close to his motto "stand by the innovators", The Horrorist delivers a dark and pretty whacky variety of electronic dance music.


Nowadays, the renowned DJ and madman Oliver Chesler has swapped the Big Apple for the electronic playground of Berlin, and his new choice of residence has inspired him with a dirty and reduced dance floor sound that carries a manifold of different facets: Minimal Techno, gnarly experimental escapades and the anarchistic pioneering spirit of the early Eighties combine to create wonderfully weird snapshots and trash fantasies. The way Chesler explains the benefits of his "Thirteen Dobermans" (all of them male!) in a slightly mad undertone in the track of the same name – the main one being that they will devour the addressee – is hard to top in regard to coolness. In "Ich habe die Macht", he even goes as far as declaring a sonic war on the world… to the underlying staccato of a Gabber-beat. The Horrorist combines untamed creativity with a tongue-in-cheek delusion of grandeur - a character like that will not be satisfied with anything less than total world domination. Seventeen tracks that are a subsonic borderline experience – fat, weird … and different from anything you have heard before. (Release Date: 29.06.07)
Tracklist:
01 Now Destructor
02 The World Will Know Us
03 Es ist alles aus
04 Automatic
05 You Are Disturbing
06 Pain and Pleasure
07 Thirteen Dobermans
08 Shopping List
09 Room of Posers
10 Body to Body
11 Wire to the Ear
12 Sex Machine
13 Where's Adam?
14 Trapped in an Empty Void
15 Close to You
16 The Grip of the Cobra