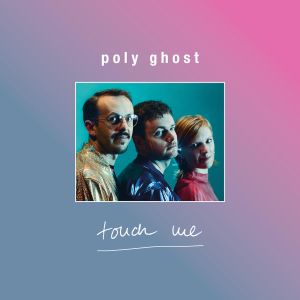 'Touch me' is the promising name of the debut album of Synth Pop trio POLY GHOST, which is released on February 21, 2020 via brillJant sounds / Believe from Hamburg. This album opens the doors to a wild dream world full of alien queens, dolphins, and machine people, in which the surreal themes of the SEGA mega drive game 'Ecco the Dolphin' are included into the music, and their 'Dolphin Ecco' got a chance to speak repeatedly.
The same-named single 'Touch me' requests Ecco to get touched, so they can undertake a time travel into a better future. The touch becomes a door opener for another, hard to achieve dimension, which is worth every risk. Also with the new music video, it is reason for the band to push boundaries by approach and body contact, just like a dolphin, and it gives the courage to act actively and empathetic.
Watch the official 'Touch Me' video clip here:
The songs on the album play with Funk and Disco elements of the 70s, are carried by grooving bass lines of the 80s, and are combined with complex synthesizer sounds. They are built dynamically, and sometimes, like the vocoder voice, they try to escape, enriched with Indie Rock guitar riffs. In silent moments, they remind of the golden times of Downbeat of the 90s. It's a conscious decision of POLY GHOST to skip unnecessary things like a second verse or the "a boy meets a girl" stories. Ecco brings the themes from the deepest depths of underwater worlds: they create words that feel familiar and strange at the same time. Is the subconscious talking?
The second single 'I can't relax in Deutschland' is dedicated to the raging whataboutism, and with a highly inflammable Calypso Indie Funk mix, the last, hateful patriotism is pushed out of the minds and hips. Other sings circulating hypnotically around objects, and create associations to holiday trips being sweet and out of touch with reality. 'Touch me' is a journey that starts with a retro video game, does not take itself to serious, and creates a freedom to say, do and play everything.
Live dates

March 6, 2020 Braunschweig, Riptide
March 7, 2020 Leipzig, Noch Besser Leben
March 9, 2020 Hanover, Kulturpalast
March 10, 2020 Bremen, Meisenfrei
March 13, 2020 Chemnitz, Odradek
March 21, 2020 Bandfactory, Musikzentrum Hanover
May 9, 2020 Berlin, Theaterhaus Mitte
July 25, 2020 Teichrock, Bad Salzdetfurth
Album pre-order: https://backl.ink/108318896
Facebook: https://www.facebook.com/polyghost.polyghost/
Instagram: https://www.instagram.com/poly.ghost/
Spotify: https://open.spotify.com/artist/3DAo6ik48L7pgyC7IEOLry
Website: https://www.polyghost.de/
Source: Press Release