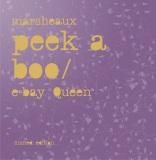 Normally, a jungle of cables and buttons on a complicated array of antiquated electronic sound generators would be any woman's living nightmare. As for Marianthi and Sophie … they can't have enough knobs, multicoloured faders and blinking LEDs. Put them behind an old analogue synthesizer and their creative spirit will spring to life at once… there can be no doubt about it: these ladies are in love with their machines. Under the moniker of Marsheaux, the two unleash a sonic universe full of multicoloured facets and with a distinctly feminine touch from their collection of old Moogs, Korgs and Rolands. While happily flirting with the appeal of Lolitaesque girlies, they also know well when to hit the mark with lascivious coolness.


Add to that a solid feel for catchy and infectious melodies and a distinct affinity towards big Pop music moments. As Marsheaux are also experts at the game of conjuring really fat sounds out of their synthesizers, they are building their Pop anthems on a solid foundation of beats and bass and are, thus, delivering floor fillers with hit qualities that will bring any disco to life. The New Order classic "Regret", for instance, is re-invented on a mighty groove that will most likely force anyone to get their body moving at once. "Peek a Boo" is released as a limited deluxe double Digipak at their price of a regular CD. This edition includes the group's highly acclaimed debut album "E-Bay Queen" as a bonus disc. With Marsheaux, there is no "Dream of a Disco" – the group brings the disco right into your own four walls. Irresistible… (Release Date: 6th july 2007)
Tracklisting

CD 1 Peek A Boo
1. Hanging on
2. Wait no more
3. No sense
4. Promis
5. Citiy of lights
6. Dream of disco
7. What a lovely surprise
8. Home
9. What don´t you like
10. Love under pressure
11. People´s mind
12. Regret
13. Heaven
CD 2 e-bay Queen
1. M.A.R.S.H.E.A.U.X.
2. Flash lights
3. Shake me
4. Pure
5. Play boy
6. Computer love
7. Tonight
8. The game
9. Analyse
10. Ola Gyrizoun
11. Hands on me
12. Pop corn
Source: Newsletter /
www.outofline.de