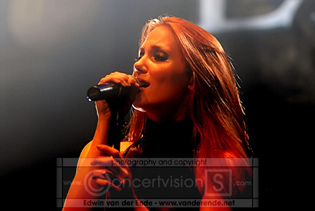 After having announced the title of the upcoming Epica album last week, this week we want to give you some more info on The Divine Conspiracy.
The Divine Conspiracy will be Epica's first full length concept album. This concept deals with the theory that, as a test, God created all kinds of different religions and released those upon humanity to see if they would be able to find the true nature of them, realizing that in all religions it is actually the same. But there's more to it, it also concludes the "Embrace That Smothers" concept that could already be found on The Phantom Agony.
We also want to mention a special guest performance on this cd; Sander Gommans (After Forever & HDK) joined us in the studio to record some of his amazing grunts for one of the songs!
And to conclude with: We have just returned from Belgrade (Serbia) to shoot the video for our first single: Never Enough. This video was shot by renowned director Ivan Colic from ICode Team & Rock the Nations. More info on this video will follow soon!
Update:
Nuclear Blast has set the release date in Germany of The Divine Conspiracy for September 7th. The rest of Europe will follow shortly after with September 10th.
Source: official website
www.epica.nl