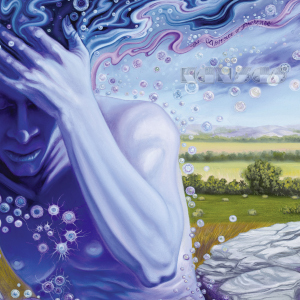 KANSAS, America's legendary Progressive Rock band, has announced a new release date for their forthcoming new studio album 'The Absence of Presence'. Due to manufacturing delays beyond the band and label's control, the album will now be released on July 17, 2020 through Inside Out Music. Recently, KANSAS released a new song and music video for their song 'Jets Overhead'. Fans can listen and watch the music video here:
'Jets Overhead' followed the release of 'Memories Down the Line', which was released on May 15. Fans can stream the song and watch the video here: https://youtu.be/K0tEhzcMBxE. In April, they released the song and music video for 'Throwing Mountains', which can be seen here: https://youtu.be/HMOX5rSFb18. The band gave fans a sneak preview of what they can expect to hear on the album with this sampler video. 'The Absence of Presence' is available for pre-order now.
"We are really excited for our fans to be able to get a taste of what is to come from 'The Absence of Presence'," says KANSAS lead vocalist Ronnie Platt. "I think people will really be surprised by the album. 'The Absence of Presence' shows the band firing on all cylinders." Billboard.com first announced the new album during an exclusive interview with KANSAS drummer and 'The Absence of Presence' co-producer Phil Ehart: http://bit.ly/KansasBillboardTAoP.
'The Absence of Presence' follows-up 2016s 'The Prelude Implicit,' which debuted at #14 on Billboard's Top 200 Albums chart. KANSAS has sold more than 30 million albums worldwide, and is famous for classic hits such as 'Carry On Wayward Son' and 'Dust in the Wind' to the progressive epic 'Song for America.'
'The Absence of Presence,' released by Inside Out Music, features nine all new tracks written by the band, produced by Zak Rizvi, and co-produced by Phil Ehart and Richard Williams. KANSAS' signature sound is unmistakable throughout. The album showcases Ronnie Platt's towering vocals, David Ragsdale's searing violin, Tom Brislin's dazzling keyboards, Williams and Rizvi's electrifying guitar riffs, Ehart's powerful drums, and Billy Greer's rocking bass.
'The Absence of Presence' will be released July 17, 2020, on Inside Out Music. The album will be available on CD, Double LP 180 Gram Vinyl, Limited Edition Deluxe CD + 5.1 Blu-Ray Artbook, and digitally. To pre-order 'The Absence of Presence', visit: https://kansas.lnk.to/TheAbsenceofPresence.
'The Absence of Presence' Track Listing

01. The Absence of Presence
02. Throwing Mountains
03. Jets Overhead
04. Propulsion 1
05. Memories Down the Line
06. Circus of Illusion
07. Animals on the Roof
08. Never
09. The Song the River Sang
In the interest of rapidly developing public health concerns and warnings due to the Corona virus, recent KANSAS tour dates have been postponed and are being rescheduled. This includes this Autumn's "Point of Know Return Anniversary European Tour", which have been moved to 2021. For more information on KANSAS, 'The Absence of Presence', "The Point of Know Return Anniversary European Tour": www.kansasband.com
"Point of Know Return Anniversary European Tour" Dates

12 Oct 2021 – (DE) Frankfurt, Jahrhunderthalle
13 Oct 2021 – (DE) Hamburg, Docks
15 Oct 2021 – (FI) Helsinki, Culture House
16 Oct 2021 – (FI) Tampere, Tamperetalo
18 Oct 2021 – (SE) Stockholm, Cirkus
20 Oct 2021 – (NO) Oslo, Sentrum Scene
22 Oct 2021 – (DE) Berlin, Tempodrom
23 Oct 2021 – (DE) Bochum, RuhrCongress
27 Oct 2021 – (DE) Munich, Circus Krone
28 Oct 2021 – (DE) Heilbronn, Harmonie
30 Oct 2021 – (NL) Amsterdam, Carre Theatre
31 Oct 2021 – (BE) Brussels, Cirque Royal
02 Nov 2021 – (FR) Paris, L'Olympia Theatre
04 Nov 2020 – (UK) London, Palladium
Source: Press Release