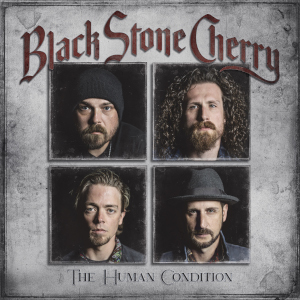 BLACK STONE CHERRY will release their seventh studio album, 'The Human Condition', on October 30th via Mascot Records / Mascot Label Group. The album will be available on Red Transparent Vinyl, Limited Edition CD Boxset and Digital. When the COVID-19 pandemic hit the world, the four members of BLACK STONE CHERRY had retired deep in the Kentucky woods to complete their 7th studio album. The daily news with the horror news about the virus quickly showed how eerily forward-looking the lyrics of the new album were. 'The Human Condition' was completed shortly before the worldwide lockdown and the 13 songs on it are largely emotional and hymnic. Pre-orders: smarturl.it/BSC-MLG.
First there is the video premiere for the first single 'Again':
"During the recording sessions we really felt a fear of the unknown - it was a scary time," recalls drummer John-Fred Young. "Every song on this album tells a story about the experiences we all have - our luck, our efforts and how we have to adapt again and again." The album starts with the lines of text: "People, people your attention please, I need to tell you about a new disease." (from 'Ringin' In My Head). The song was composed four years ago, but powerfully captures the whole hysteria surrounding the COVID-19 outbreak. With 'Push Down and Turn', BSC masterfully use the space to create a devastating Metal dynamic. This stirring song is truly a "human condition" song as it is about mental illness and advocates being brave and seeking treatment should you have problems. "I suffer from manic depression and have severe anxiety. With this song I want to convey that it's okay to go to a doctor and talk about these problems. It's not a shame and you don't get stigmatized for it," says vocalist / guitarist Chris Robertson.
'The Human Condition' was recorded in March 2020 at Monocle Studios by bassist Jon Lawhon and produced by the band themselves. The band brought four songs to the studio, wrote new songs there and also recorded some of their unreleased favourites. The production and performance on this album are among the best BLACK STONE CHERRY have ever delivered. For the first time, the band decided to record the basics on multiple tracks instead of playing them live. Each band member had to go through long and gruelling recording sessions in order to achieve the collectively desired end result of an epic recording. The result is breath-taking - the grooves feel organic, the riffs are massive and the hooks shine through every song. Guitarist and singer Ben Wells adds: "We turned the amplifiers up to the stop, the drums kicked your face and we punched out some nice heavy guitar riffs. After 19 years and 7 albums we wanted to prove that we can still do it. This album feels like a rebirth."
"Now when I listen to the album, I feel all these different emotions," says Jon Lawhon. "We started as teenagers and especially now I am noticing how life has taken its course. During all of this time, your preferences and perspective change, but one thing that hasn't changed is our connection as friends." Chris confirms, "This is a brotherhood. It's amazing to still be with all four founding members and still be inspired. On 7 more albums and another 19 years!"
Source: Press Release