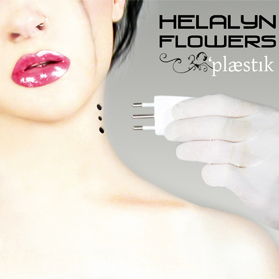 Helalyn Flowers releases first EPCD

Beautiful people (N0emi is super hot!!) and excellent music ? They come united in Italy's Helalyn Flowers, the project of the duo Max and female singer N0emi. With 2 self-produced singles ("Disconnection" and "E-Race Generation") under their arms Helalyn Flowers got noticed instantly by such magazines as Italy's famous rock/metal magazine Flash, Britain's Kaleidoscope and Germanyâ?Ts Sonic Seducer magazine. It was the Belgian A&R Seba Dolimont (Alfa Matrix) who offered the band a contract. Out on June 22nd (but in pre-order now already) is the band's label debut EP "Plaestik" which will be released as a limited edition DJ box. So what do they actually sound like? Well, expect a rich cocktail of Nu/Goth Metal, Industrial, Alternative, Dark Trip-Hop, Electronic and Synth / Future / Cold Pop. Good to know, both members have a past in nu-metal but threw that overboard in 2004 to give birth to a more electro infested sound. As far as we can tell, that has been a very smart move that could well convince quite a lot of people. The DJ EP "Plaestik" comes before the release of their full-length album "A Voluntary Coincidence". Possibly one of the hottest signings from Alfa Matrix this year.
The tracklist of this EPCD:
1. DGTal Blood
2. Voices
3. E-Race Generation
4. E-Race Generation (Angelspit Remix)
5. Voices (Sthilmann Remix)
6. DGTal Blood (Headscan Remix)
7. E-Race Generation (Qelipotic Mix by Rise Of The Fallen)
8. Voices (Neikka RPM Remix)
9. E-Race Generation (Implant Remix).
Be sure to check out the super SEXY female frontsinger ! Pictures are
available righte
here
.
Source: Newsletter
http://www.alfa-matrix.com/