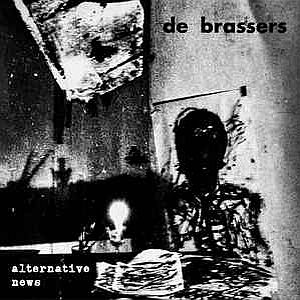 A new live album by DE BRASSERS in an edition of 500 copies will be coming soon. It was recorded at Het Depot Leuven, Breaking Barriers festival. 'En Toen Was Er Niets Meer' ('And Then There Was Nothing More')… One of their most famous songs, but certainly not their philosophy. Two years ago, there was the book around their 40th anniversary: 'De Brassers 1978 – 2018' and now, there will be a new live album.
DE BRASSERS are one of the most notorious bands in the Belgian New Wave / Punk history. With their no-nonsense attitude they scared the shit out of the local catholic community of Hamont (Belgium). DE BRASSERS were a local mixture of the SEX PISTOLS (in the lowest gear), JOY DIVISION and PIL. The doomed sound they produced tells a lot about the dark atmosphere of the late seventies and early eighties: the fear of atomic bombs, cold war pessimism, police violence against squatters, and the grim years of Reagan & Thatcher.
In 2020 they are still "boys" with ideals. In a spirit of the times in which fear and pessimism are re-emerging, they release a new live album through their own label Bras Records. Their concert at Het Depot in Leuven at the Breaking Barriers Festival (10th November 2019) includes three never before released songs, three "classics" and two covers ('Lowdown' by WIRE and 'Nasty Little Lonely' by ALTERNATIVE TV). The album was produced by LA MUERTE's guitarist Dee-J and mastered by Sven Mühlender at Not Not Fun Studio in Berlin.
Tracklist

A1. O Brother
A2. Goes Like This
A3. Niets Meer
A4. Eruit
B1. Sick In Your Mind
B2. Lowdown
B3. Bad Company
B4. Nasty Little Lonely
https://wool-e-discs.be/
Source: Press Release