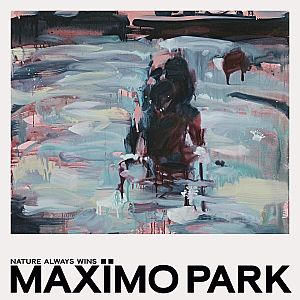 MAXÏMO PARK are in the starting blocks with a new album! 'Nature Always Wins' will be released on February 26, 2021 via Prolifica. After separating from keyboardist Lukas Wooller, Smith, Lloyd and English started looking for a new, fourth member last summer. In the best case, someone who could also take on the role of producer. In the end, the band found what they were looking for in the Atlanta-based Grammy winner Ben Allen (ANIMAL COLLECTIVE, DEERHUNTER), who was supposed to support the trio in the studio since spring. Lockdown restrictions did not make it easy for the band in the following years, which culminated in complicated online recording sessions across the Atlantic.
"After almost four years since 'Risk To Exist', we wanted to explore new musical territory (for us) without sacrificing our trademark melodic twists and heartfelt lyrics", comments singer Paul Smith the unusual processes. "As always, the passing of time looms large, although the songs contain more affection for the past than before, and there are occasional hints of the fractious, divided time that we live in."
The news of the album announcement follows last month's surprisingly released track 'Child Of The Flatlands' - a majestic, psychedelic slow-burner who casts a wistful, enamoured look at frontman Paul Smith growing up somewhere between English countryside and urban landscapes. As the first real single, the four now share the new song 'Baby, Sleep', which sends the audience into a world full of wild, untamed Indie Rock energy. Driven by the inimitable guitar of Duncan Lloyd and the polished words of Smith, who discusses stress-related sleep deprivation and the consequences on the song, MAXÏMO PARK present themselves at their best. "'Baby, Sleep' is a light-hearted look at the surreal nature of sleep-deprivation, and the way it distorts normality in a capitalist society", talks the band leader about the new material.
Like 'Child Of The Flatlands', also the Ruf Dug produced video for 'Baby, Sleep' contains many psychedelic elements and shows how the band performs in a basement vault. Over the length of the album, MAXÏMO PARK asked big questions: Who are we? Who do we want to be? And do we have any control over it? The album title refers to the debate between Nature versus Nurture and sets up the discussion as to whether changes are possible under the influence of time, perspective and environment, or whether we are destined to be forever tied to our own genetics. 'Nature Always Wins' is a kind of test that focuses on the concept of self, identity as a band and humanity as a whole and explores these fundamentally in their details.
MAXÏMO PARK's last studio album so far – 'Risk To Exist' - was released in 2017. A live album ('As Long As We Keep Moving') followed in March 2019, before the band started recording 'Nature Always Wins'.
Tracklist 'Nature Always Wins'

01. Partly Of My Making (04:03)
02. Versions Of You (04:37)
03. Baby, Sleep (03:13)
04. Placeholder (02:48)
05. All Of Me (03:41)
06. Ardour (featuring Pauline Murray) (03:17)
07. Meeting Up (03:51)
08. Why Must A Building Burn (03:02)
09. I Don't Know What I'm Doing (02:50)
10. The Acid Remark (03:32)
11. Feelings I'm Supposed To Feel (04:25)
12. Child Of The Flatlands (05:16)
Source: Press Release