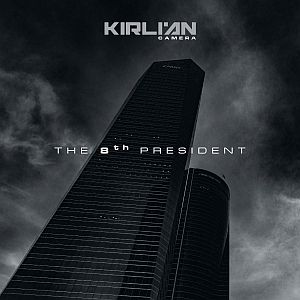 KIRLIAN CAMERA has released the first single taken from their forthcoming double album 'Cold Pills (Scarlet Gate of Toxic Daybreak)', which is scheduled for release on May 14, 2021. The forerunner single 'The 8th President' will hit the stores on March 26, 2021. KIRLIAN CAMERA presents the single 'The 8th President' as the first delicious appetiser taken from their forthcoming double album "Cold Pills". The subversive Italians remain true to their course of melancholic electronics as on the highly acclaimed latest album 'Hologram Moon'.
The meticulous songwriting and striking arrangement of the single elegantly demonstrates how this duo has mastered its musical craft with the wealth of experience of more than 30 years. Yet the title track of the single 'The 8th President' also hints at a slight change of direction for KIRLIAN CAMERA: Elena Alice Fossi's soaring vocals float with captivating ease over a beckoning abyss of sinister electronics. "With 'Cold Pills' we have created our darkest album yet," promise Angelo Bergamini and Elena Alice Fossi. 'The 8th President' is the first indisputable proof of this statement.
Tracklist

A. The 8th President
B. Phoenix Aliena (Italian Version)
B. Golden Carousel
KIRLIAN CAMERA comment: "At times apocalyptically romantic, at other times merciless and stormy, 'The 8th President' appears to be the choreography of "satanic-shaped mystics", for those, who have no courageous touch with the subsoil of good", the Italians write. "The true history of the world was born in the basement. It is there that the event of 'The 8th President' came to life, in the dark and devastating places of a former asylum, where the screams and desperation of long-term patients can be still clearly perceived in every corner of that earthly hell. The pieces of a luxurious marble chessboard are moving under the fingers of the 8th President. The preys of dark and conditioning powers are now his toy, leaving nothing to dreams."
Available formats

'The 8th President' will be released as a black and grey, four-sided Digipak CD and as a 12" vinyl single limited to 300 black and 200 gold-coloured copies.
Pre-orders: https://dependent.lnk.to/kirlian-camera-the-8th-president
Source: Press Release