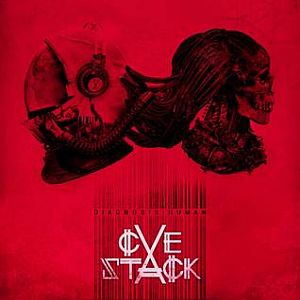 Planet earth in the year 2121: robots and machines controlled by artificial intelligence have become an integral part of everyday life. But what happens when the independently thinking super brain recognizes the human individual as the greatest weak point in the system during the automatic error analysis and suddenly turns against his creator? On their highly anticipated debut album, the Viennese industrial metal duo CUESTACK draws a dystopian-gloomy vision of the future that may begin tomorrow with an inconspicuous warning - 'Diagnosis: Human'!
The two Austrians Martin Kames and Bernth Brodträger hide behind the unusual name CUESTACK. As a world-renowned light and show designer, Martin has already worked with numerous international Rock and Metal greats such as MACHINE HEAD, PARKWAY DRIVE, HEAVEN SHALL BURN and many others; Bernth has been a sought-after session and live guitarist around the world for over ten years and also operates one of the most far-reaching YouTube channels for musicians. The duo has been working on the creation of their very own multimedia total work of art called CUESTACK since 2018.
A fascinating cosmos of music, elaborate visuals and a bombastic stage show, with which the band reaches up to 100k monthly listeners on Spotify, has so far generated more than 5 million total views on YouTube and international magazines from Forbes magazine via the media platform Consequence Of Sound caught the attention of the relevant metal press. The Austrians caused further international furore with the clip for the track 'Through The Night', which has meanwhile been clicked almost 3.3 million times and for which none other than David Hasselhoff could be won as a special guest. Inspired by films such as 'Blade Runner' or 'Prometheus', TV series like 'Black Mirror' as well as artists like HR Giger and Zdzisław Beksiński create CUESTACK a futuristic-surreal parallel world, into which the duo now invites all fans with 'Diagnosis: Human'.
CUESTACK merge hard Metal riffing, dark-atmospheric samples, oscillating vocals and bombastic choirs between melodic screaming, robot-like, undercooled vocal parts into a head-cinematic hybrid mix with which formations like FEAR FACTORY, MINISTRY, SAMAEL, MARILYN MANSON or PUSCIFER can compete seriously. "From the outside, our sound world often appears gloomy, dreary, machine-based and post-apocalyptic," says Bernth Brodträger, describing the overall experience of the CUESTACK an optimist and pessimist; Martin is a more open family man, while I see myself as a withdrawn hermit. These poles keep rubbing against each other and ultimately create the creative tension that defines CUESTACK.
On their first long player, CUESTACK deal with future-oriented technologies - as well as the risks and existential questions that are almost inevitably associated with them, as the duo demonstrates with 'Diagnosis: Human'. What makes a person? And what is a machine? Where are the limits and how can you control artificial intelligence that becomes smarter and smarter? Even CUESTACK do not have a clear answer. Rather, today the duo would like to give important food for thought for tomorrow, like with the first pre-single 'Transhuman Generation', on which the two musicians deal with the subject of the human machine.
"Are we really looking for a 'cure' for humanity?", says Martin Kames about the CUESTACK version of a modern Frankenstein monster. "It's about the question of whether you would really go so far as to have a computer chip implanted in your brain. Whether what is still science fiction today may soon become a completely normal part of our everyday life." A motif that CUESTACK express musically in the form of a dramatic change between cold, dark electronica elements and big guitar riffs.
After topics such as human vices and dependencies, cyberbullying, different types of loss or the inexorably growing overpopulation, CUESTACK present their most controversial album track with the brutal rocker 'Gynoid', on which one goes into the bizarre abyss of the robot sex business. "We came across several online articles that discussed basic human rights for robots and whether these machines could either serve as a cure for aggressive and illegal sexual behaviour or do the exact opposite and even add fuel to the fire," adds Bernth bread carrier. "On another level, it's about the huge gap between love and sex. Where do robots fit in on this spectrum? Acoustically we are once again at the roots of CUESTACK: Heavy guitar parts combined with a screeching synthesizer, while the balance is always between hardness and interesting, melodic structures, closely intertwined with the surreal theme of 'Gynoid'."
The trip to CUESTACK's metallic-futuristic sound cosmos ends with the closing track 'Icon': A philosophical consideration of the tension between art and artificial intelligence, human fallibility and machine perfection. "Can you use AI to create a painting that we call a masterpiece, or can art only be created by torn, imperfect human beings? Where is the line between artistic ingenuity and mechanically perfect execution? Would robots eliminate art and culture entirely to maximize efficiency and keep daily distractions to a minimum? These are the final thoughts of the album, which represent machines as the modern 'iconoclasts' of art."
Welcome to the future.
Watch the first video of the song 'Stronger' here:
All profits from the song go to the 'Alarmstufe Rot' alliance. Pre-order the album here: https://linktr.ee/cuestack
Web links: https://www.cuestack.com / https://www.facebook.com/CueStack / https://www.instagram.com/cuestack_official/
Source: Press Release