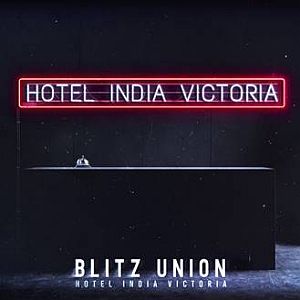 "Vision. Spirit. Power. Desire. Action" - this is the slogan of the Czech EDM rockers from BLITZ UNION. After the quartet with its extraordinary hybrid mix of atmospheric Hard Rock and modern Electronica elements was able to generate over 1 million streams of its tracks and videos in record time, the formation is now doing with their brand new EP the quantum leap from insider tip to one of the most exciting newcomer acts in all of Europe and beyond!
BLITZ UNION combine their immediately recognizable signature sound of hard guitar riffs, poppy EDM hooks, danceable industrial beats and the distinctive vocals of front man Mark Blitz with futuristic visuals and a strong message. In pieces such as 'Plastic', 'Human Robot' or the title track of their 'Not Proud' EP released in April, the group of four negotiates the challenges of Generation Y: Current social and political issues such as environmental degradation, climate change, abuse of power, political persecution, homophobia, isolation, exploitation, corruption, bubble mentality or social injustice. BLITZ UNION see themselves as a kind of movement; an Industrial Rock think tank in which new visions for the future are worked on in constant exchange with their global, constantly growing fan base. Change, hope and thinking outside the box.
"The aim is to bring like-minded people with similar ideas and ideals together," explains BLITZ UNION mastermind Mark Blitz. "The connection to our fans is essential. We invite everyone to think together about how we want to live in the future. In our songs we process what concerns us and the people of our generation today. Topics that urgently need to be talked about. Although we don't have all-round solutions for all problems in this world, we at least want to make the audience think. It's about facing uncomfortable truths. Even if it sometimes hurts extremely."
BLITZ UNION was founded in Prague in 2019. Mark Blitz, Schtorm, Govenor and Shodushi have known each other since early childhood and are now fighting for the same cause in BLITZ UNION. And then there is BLITZ UNION's fifth member: a mysterious figure named Mr. Blitz who channels his thoughts and messages through the band. The Prague quartet already attracted attention two years ago with their debut EP 'Revolution', produced by studio icon Steve Thompson (KORN, GUNS 'N ROSES, MADONNA). Inspired by modern metal bands like Rammstein, Korn, Static-X or Marilyn Manson as well as electronica acts like DEADMAU5, BLITZ UNION combine the most varied of influences with elaborate visuals and their stylish stage look to create a gripping overall concept.
The band celebrated their live premiere at the legendary Whiskey A Go Go in Hollywood, followed by shows at the Los Angeles Music Conference and various festival appearances in their Czech homeland. In 2019, BLITZ UNION experienced Germany during two celebrated support slots for OOMPH!. With the 'Not Proud' EP released in April, BLITZ UNION seamlessly continued their entry-level success! This summer they can be seen live in the Czech Republic on five dates in July, August and September:
July 17 - HERMANNSTHAL - Jeřmanické Slavnosti - FREE ENTRY -
July 31 - PARDUBITZ - Závodiště - Tour Škwor
Aug 13 - PRAGUE - Ledárny Braník - Tour Škwor
Sep 11 - PRAGUE - Lesopark Letňany - Letňanský Festival - FREE ENTRY -
Sep 18 - HORSCHEPNIK - Letní parket - Škwor + Blitz Union
With 'Hotel India Victoria (HIV)', BLITZ UNION are now releasing the first single from their long-awaited debut album, which will be released on November 26th, 2021. Characteristically for the band, the song - in its provocative abbreviation "HIV" - addresses a controversial topic. The Hotel India Victoria is open to everyone, but it should be noted that a stay can be fatal. Front man Mark Blitz explains: "It is our goal to touch people with our music and also to make them think. HIV is still an enormously important topic that should not be neglected and that makes the track an important song for us. It is about drawing attention to this insidious disease which is still responsible for much suffering and pain in large parts of our world."
Atmospheric synths, huge guitars mix with samples and Mark Blitz' distinctive voice, which sometimes desperately calls for help at the Hotel India Victoria. A true statement that once again merges the boundaries between EDM, Hard Rock and Pop.
Watch the 'Hotel India Victoria (HIV)' video here:
Stream and download the track here: https://orcd.co/buhiv
Join the Union!
https://www.blitzunion.com/
https://www.facebook.com/BLITZUNION
https://www.instagram.com/blitzunion/
https://twitter.com/blitzunion
https://linktr.ee/blitzunion
Source: Press Release