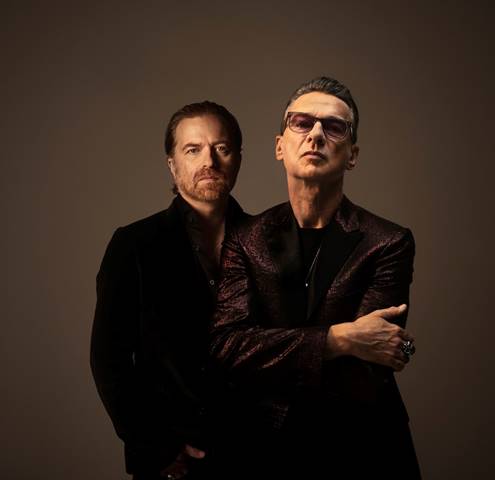 After the announcement of their new album 'Imposter', DAVE GAHAN and SOULSAVERS released the first single 'Metal Heart' last week. 'Metal Heart', written by Chan Marshall (CatPower) and first released in 1998, was released on October 8th. 'Imposter' takes listeners on a personal journey of 12 carefully selected, reinterpreted songs from a variety of genres and time periods, including a selection by Neil Young, Bob Dylan, PJ Harvey, Charlie Chaplin, Cat Power and Mark Lanegan. But when would it do the album an injustice to call 'Imposter' a cover album?
Rather, 'Imposter' is a representation of songs that DAVE GAHAN & SOULSAVERS have heard, studied, absorbed and brought back to life. All songs have a deeper meaning for DAVE and make 'Imposter' a reflection of his life - a story that is told by others, but sung with its own, unmistakable voice. "When I listen to other people's voices and songs - especially the way they sing them and interpret the words - I feel at home," admits DAVE GAHAN. "I identify with it. That comforts me more than anything else. There isn't a single song by an artist on the record that hasn't touched me." And he adds, "I know we made something special, and I hope that other people will sense this and take them on some kind of journey - especially people who love music and have been for years."
The recordings for 'Imposter' took place in November 2019 live with a ten-piece band in the famous Shangri-La Recording Studio in Malibu, California. Not only did this allow for a more intimate collaboration than on previous DAVE GAHAN and SOULSAVERS projects, it also really soaked up the atmosphere and breathed a different spirit into the tracks. In an interview with podcaster and media personality Chris Black, DAVE noted, "This was the first time we were all in one place. It was also kind of a happy moment... Arriving in Shangri-La every day was magical. We had coffee, went in and worked."
Following their critically acclaimed release 'Angels & Ghosts' in 2015 and their first release 'The Light the Dead See' in 2012, 'Imposter' is the collaborators' third album. The album will be released digitally and in physical formats (vinyl and CD) worldwide on November 12 via Columbia Records.
Watch the 'Metal Heart' video:
'Imposter' tracklist

01. The Dark End of the Street
02. Strange Religion
03. Lilac Wine
04. I Held My Baby Last Night
05. A Man Needs a Maid
06. Metal Heart
07. Shut Me Down
08. Where My Love Lies Asleep
09. Smile
10. The Desperate Kingdom of Love
11. Not Dark Yet
12. Always On My Mind
More album information and updates here: www.DaveGahan.com and Instagram.com/theimposter
Source: Press Release / Photo credit: Spencer Ostrander and Joe Magowan