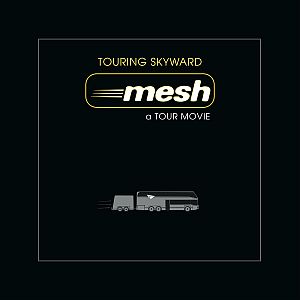 British alternative electronic duo MESH are gladly announcing the release date of their eagerly anticipated and long awaited live Blu-ray, which has been scheduled to hit the streets on January 28, 2022. 'Touring Skyward - A Tour Movie' will be released as 60-page hardcover book edition including the Blu-ray with 3 ½ hours playing time and 2 CDs with 23 live-tracks among other items. This project of epic proportions is more than just a live document. On 'Touring Skyward - A Tour Movie', MESH grant an intimate look behind the scenes, interviews, and much more.
First video trailer of 'Touring Skyward - A Tour Movie':
MESH comment: "Difficult things take a long time - impossible things a little longer", writes keyboarder and vocalist Richard "Rich" Silverthorn. "It's been a long time in the making but 'Touring Skyward' will eventually see its release on January 2022. The Covid pandemic, technical and manufacturing issues all of that contributed to the frustrations of putting this together but now is your chance to get your hands on the Blu-ray. An in-depth behind the scenes view of life on the road with us. A good and honest insight into how it all works and the team of people who make it happen."
Live Tracklist

01. Kill Your Darlings
02. My Protector
03. Circles
04. You Didn't Want Me
05. Tactile
06. Once Surrounded
07. The Fixer
08. Two + 1
09. Too Little too Late
10. Runway
11. I Fall Over
12. Little Missile
13. Leave You Nothing
14. The Last One Standing
15. Confined
16. The Traps We Made
17. Just Leave Us Alone
18. Taken for Granted
19. There Must Be a Way
20. Born to Lie
21. Before this World Ends
22. Born to Lie
23. My Protector
Few artists have ever permitted such an intimate glimpse behind the scenes as MESH are now granting their numerous friends with 'Touring Skyward'. The British alternative electronic favourites have allowed the cameras to accompany them into the backstage, onto the tour-bus, and to other usually restricted or private locations. The two founding members of the band, Mark Hockings and Richard Silverthorn, open up in deeply honest interviews. Detailed depictions of the stage set-up of all musicians involved, fan interviews, and many more insights complete this exciting road movie.
Such an undertaking would not be complete without the concerts: These are aptly provided by professionally edited stage footage shot in full HD resolution. MESH make full use of the chance to demonstrate their dynamic stage performance and the determined will to win over even a crowd that reacts initially hesitant until they have made them fully theirs.
'Touring Skyward - A Tour Movie' comes as a limited art-book with a Blu-ray of 3 ½ hours playing time including two audio CDs featuring all 23 live tracks recorded on the tour as well as a spectacular 60-page photo booklet. By the bucketful of heart's blood and rivers of hard working sweat went into the making of "Touring Skyward - A Tour Movie". It took four and a half years to record, produce, and announce the Blu-ray from the time of the almost sold-out tour until the release in January 2022. Now as all the obstacles have been overcome a massive package is waiting to be enjoyed.
'Touring Skyward - A Tour Movie' is not just another live recording or documentary, but rather honouring an exceptional artist such MESH it is all of this and much more: 'Touring Skyward - A Tour Movie' is a gift from the alternative electronic heart for all the amazing and numerous 'Friends Like These...'!
Release date: January 2022
Line-up: Mark Hockings (vocals, guitar) & Richard Silverthorn (keyboard, vocals)
Style: Alternative Electronic Music
Links: www.mesh.co.uk / www.facebook.com/meshtheband /www.instagram.com/meshwecollide
Pre-sale link: http://lnk.spkr.media/mesh-touring-skyward
Available formats: 60-page hardcover book edition including 1 Blu-ray with 3 ½ hours playing time and 2 CDs with 23 live-tracks, featuring exclusive artwork, pictures, and liner notes from various crew members.
Source: Press Release