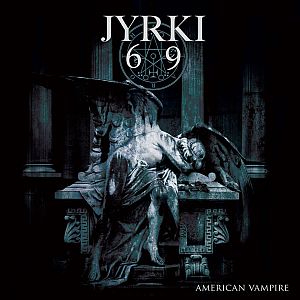 Jyrki Linnankivi, best known as the leader of the Finnish Band THE 69 EYES, made the best of the long waiting time until the music world turns back to normal and kept himself busy with releasing new music with THE 69 CATS and working on his second solo album. You can be assured, that 'American Vampire' will sound quite different from the 2017 released album 'Helsinki Vampire' because this time Jyrki 69 teamed up with many different artists like Billy Idol guitarist Steve Stevens, Indie experimentalists Xiu Xiu, Pop music queen Tiffany and many more.
The album will include original and cover tracks and just in time for Halloween, the second single 'American Vampire' was released featuring an amazing video featuring TIM SKOLD (KMFDM, MARILYN MANSON, SKOLD), that was directed by Vicente Cordero.
The album will be released on December 17th 2021 via Cleopatra Records. There will be a beautiful limited vinyl edition in silver and the album can be pre-ordered already.
Tracklist

01. SexDrugsRocknRoll feat. Shotgun Messiah
02. White Rabbit feat. Steve Stevens
03. Dreamtime feat. Rosetta Stone
04. Bite It You Scum feat. Leæther Strip
05. American Vampire feat. Skold
6. Don't You Want Me feat. Tiffany
07. Decision feat. The KVB
08. Deviant Carousal feat. Xiu Xiu
09. Clover feat. Youlooktired
10. Last Dance feat. Not My God
Pre-order 'American Vampire'

Europe - CD, Limited Silver Vinyl and Blue Vinyl: https://www.recordshopx.com/artist/jyrki_69
USA: https://cleorecs.com/store/?s=jyrki+69+american+vampire&post_type=product
Pre-order 'White Rabbit' in a limited edition splatter Vinyl

Europe: https://www.recordshopx.com/artist/jyrki_69/
USA: https://cleorecs.com/store/shop/jyrki-69-white-rabbit-feat-steven-stevens-limited-edition-splatter-7-vinyl/
Website: https://www.facebook.com/JyrkiLinnankiviOfficial