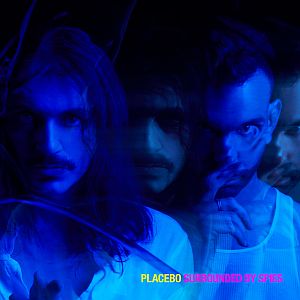 PLACEBO recently announced news on their long-awaited eighth studio album. Nine years after the publication of her last work 'Loud Like Love', 'Never Let Me Go' will be released on March 25, 2022. In addition, the band released another track from the new album with 'Surrounded By Spies' and announced a European tour for 2022.
Watch 'Surrounded By Spies' here:
In September, PLACEBO returned from a long hibernation and released their first single in five years, 'Beautiful James' - and the first from their new album. A happy and celebratory song that puts a slight pinch of antagonism against the more and more prevailing ignorant currents in the dialogue of our time. As Brian Molko commented at the time: "If the song serves to irritate the philistines and uptight people, then that's fine with me."
As the great masters of cataloging human existence, PLACEBO's unique way of extrapolating both its weaknesses and its beauty will fall on fertile ground in 2021. Out of the pandemic, they raise their voices in a landscape of intolerance, division, technical oversaturation and the impending ecological catastrophe and sing their stories into the world. Seldom has this voice been more meaningful and suitable for contemporary discourse. In the magnetic slow-burn of the new track 'Surrounded By Spies', the erosion of civil liberties is addressed without further ado. Brian Molko's skilful lyrical performance is combined with a creeping sense of claustrophobia, as if walls are approaching from everywhere.
Brian Molko comments, "I started writing the text when I found out that my neighbours were spying on me on behalf of a third party with a questionable agenda. Then I began to ponder the myriad of ways our privacy has been eroded and stolen since the advent of global surveillance cameras that now use racist facial recognition technology; the rise of the internet and the mobile phone that has turned virtually every user into a paparazzo and spectator of their own life, and how we almost all share personal information with huge multinational corporations whose only intent is to exploit us. I used the cutup technique invented by William S. Burroughs that David Bowie popularized in his songs. It is a true story told through the lens of paranoia, utter disgust for the values of modern society, and the idolatry of surveillance capitalism. The narrator is at the end of his tether, hopeless and scared, in complete contradiction to our newfound progress and the god of money."
PLACEBO have also announced a major European tour for autumn 2022, here are the dates for GSA:
Oct 1, 2022 Frankfurt, Festhalle
Oct 4, 2022 Stuttgart, Schleyerhalle
Oct 6, 2022 Berlin, Mercedes Benz Arena
Oct 19, 2022 Leipzig, Quarterback Immobilien Arena
Oct 22, 2022 Hamburg, Barclaycard Arena
Oct 26, 2022 Munich, Olympiahalle
Oct 29, 2022 Zurich, Samsung Hall
Nov 2, 2022 Vienna, Stadthalle
Nov 7, 2022 Cologne, Lanxess Arena
Source: Press Release