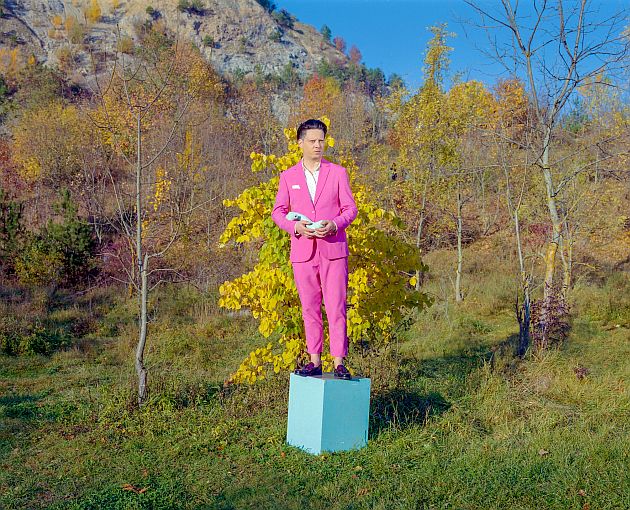 On March 25th the new GET WELL SOON album will be released. And Konstantin Gropper is once again opening a whole new chapter: Where in the pre-pandemic 2018 'The Horror' referred to the poison and gloom of the (then) present, 'Amen' is - here and now of all places - the album on which the 39-year-old has discovered his confidence. "In times of crisis," said a clever person, "people show their true colours". Voilà.
"In the middle of the lockdown, when I worked a lot alone and read the news again and again, I was shocked to see: I am an optimist! After all the years in which I have admired the great black painters, from Bernhard to Cobain, I had to admit to myself that I can't help but believe in a 'good ending'", said Gropper. Of course, he does not overlook the devastation that the past two years have wreaked on many. "Rather, this typically German complaining gets on my nerves. The constant complaining about the adverse circumstances, although despite everything one is still one of the most privileged."
A fine sense of humour runs through the new album: Whether it's the Siri-based and latently encroaching artificial intelligence that guides you through 'Amen', the reflection on the eccentric space battle of the tech billionaires, the fact that the text of an entire song is composed of fortune cookie wisdom or Gropper's tongue-in-cheek game with the role of the life coach as a mediator of one's own happiness.
The aura of new beginnings and self-optimization that wafts around the latter character is also reflected in the first song 'Mantra' - a song that, according to Gropper, is "entirely dedicated to the bastard": "You are here / It is time / Then why don't you / why" he sings until this repetitive mantra goes up in an electrifying shoegaze thunderstorm and a breath of cosmic energy remains in the room. 'Amen' is also musically painted in lighter colours than its predecessor. "I mainly heard songs from my Happy Place playlist as inspiration. I'm sure a lot of people are surprised that I have them, but there are."
In spite of all of this, 'Amen' is by no means an album that preaches simple positivity. Rather, it raises the question of how optimism can be possible in spite of all this. Spring will show whether there is an answer: 'Amen' will be released on March 25th.
Check out the video here:
Source: Press Release / Photo by Clemens Fantur