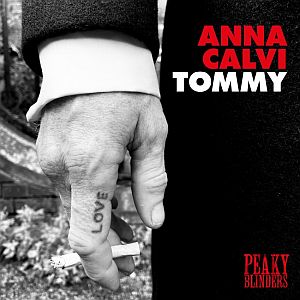 On Sunday the final episode of BBC One's Peaky Blinders aired in the UK; one of the biggest TV moments of the year for the Kingdom - the season premiere was seen by 3.8 million viewers. The 6th season was set to music by ANNA CALVI, who wrote and recorded the complete soundtrack. CALVI now announces their new EP 'Tommy' for May 6. 'Tommy' includes four new songs including a cover of 'Red Right Hand' - the Peaky Blinders theme song by NICK CAVE & THE BAD SEEDS, a cover of BOB DYLAN's 'All The Tired Horses' and two songs written specifically for the series, 'Ain't No Grave' and 'Burning Down'.
'Ain't No Grave' was first performed in Season 5 of Peaky Blinders but is Season 6's musical lynchpin, appearing in all six episodes and fuelling the on-screen drama with its peppy presence underlines. Today, CALVI is delighted to release the full-length song for the first time.
'Ain't No Grave' streaming:
https://annacalvi.ffm.to/aintnograve
ANNA CALVI, who previously wrote and recorded the score for Season 5 of Peaky Blinders, has been re-enlisted for the final season to bring her atmospheric and haunting guitar playing to the lives of those who work for The Shelby Company Limited. 'Ain't No Grave' is a fitting obituary for the series, with CALVI singing the tormented Tommy Shelby - played by Cillian Murphy - "I see a band of angels, they're coming after me... Meet me Jesus, meet me". The song is an old Gospel song that has been covered many times, most notably by Johnny Cash. ANNA's version uses lyrics from the original version and Cash's version as well as her own lyrics for the chorus, while the music is an original composition by ANNA.
Shortly after CALVI began working on the season 6 music, she became pregnant with her first child. However, due to the ongoing pandemic, she has had to find a new way to record with other musicians under strict conditions in London. CALVI also decided to bring on board long-time collaborator Nick Launay, who produced her third studio album 'Hunter' as well as the albums by NICK CAVE & THE BAD SEEDS, YEAH YEAH YEAHS, GRINDERMAN and IDLES. ANNA worked on the score up until the night before the birth of her son Elio in November 2021 and quickly went back to work thereafter to complete the entire score. When the first episode of the season aired, she was still in the early stages of motherhood and had to settle into her new life. The completion of the film music is an enormous success for ANNA and shows that she is still in the process of developing and showing all her skills as a composer and artist.
CALVI said of the process, "I've lived in the role of Tommy Shelby for years now, having scored the fifth and final season of Peaky Blinders. The only way to write for this show is to get inside his head I've dreamed about him every night for months and when I pick up my guitar, I try to emulate his inner thoughts. My guitar is his anger and my voice is his hope. I've always felt that he should have a song that sums him up - he's the ultimate anti-hero - murderous, cold, terrifying, yet he has a deep love for his family and a naïve, childish hope that one day he will rise above it all. I wanted to believe that 'Ain't No Grave' is the song floating around in his head as he goes through his life in slow motion. I believe Tommy will be a part of me forever!"
Peaky Blinders creator Steven Knight adds: "A new ANNA CALVI single is always cause for celebration and I want to join the list of those praising it. I also want to thank ANNA for all the work that she did for the Peaky Blinders season 6 soundtrack."
Tracklist

01. Ain't No Grave
02. Burning Down
03. Red Right Hand
04. All The Tired Horses
Live

June 12, 2022 Berlin, Tempelhof Airport
Source: Press Release