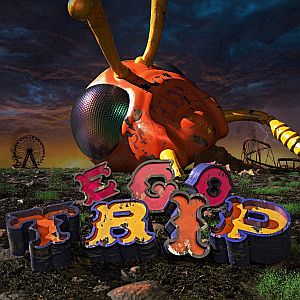 After two years of work and months of anticipation from the fans, PAPA ROACH release the new album 'Ego Trip' today via New Noize Records. The seed for this album, which almost accidentally began to germinate in the throes of a global lockdown, was planted when the quartet moved into a COVID-safe villa quarters in Temecula, California, in the summer of 2020.
Originally planned as an escapist escape and creative exercise in a world that had almost come to a complete standstill, it quickly grew into something bigger. Purposeful, provocative, and walking the fine line between confidence and cockiness without faltering ("I really hope Ego Trip will make some people stop and reconsider their path," says Jacoby, laughing) showcases guitarist Jerry Horton, bassist Tobin Esperance and Drummer Tony Palermo and their singer created PAPA ROACH at their most daring and brilliant.
"Throughout my life I've embarked on this constant journey to unravel this... thing," tells Jacoby about the inspiration behind 'Ego Trip'. "This eternal paradigm; this struggle between the light and the dark. I see it alive in the world and it's something I'm constantly trying to find balance in with regards to my own life. Who is at the wheel of my ego? Is it the high-frequency version of myself, the one who is more spiritual and self-aware, or is it the low-frequency version who can be selfish, self-centred and self-seeking? Throughout the process of making this record, we had some really profound conversations about life, who is at the helm of our egos and what it is that drives and motivates us."
Fans celebrated the previous single releases such as 'Cut The Line', 'Stand Up', 'Dying To Believe' or 'Kill The Noise' (the latter stayed at number 1 in the mainstream Rock charts for over a month), as well as the special one genre-breaking single 'Swerve' that featured Jason Aalon Butler (FEVER 333) and SUECO. There are also a handful of other new songs, including 'No Apologies', a catchy, thoroughly modern Rock anthem the band is known for. All 14 songs are from a 2020 songwriting session that saw the iconic Rock band has worked with their tight-knit and trusted creative network team of collaborators such as Colin "Doc" Brittain, Nick Furlong, Jason Evigan, as well as newcomers WZRD BLD and Andrew Goldstein.
Additionally, PAPA ROACH have uniquely connected with their fans via TikTok, San Francisco 49ers, Twitter, ESPN UFC. The band rocked Shakey's Pizza yesterday in an extraordinary release party on Santa Monica Blvd in Los Angeles. 'Ego Trip' is available today to stream and as a physical product through the band's own label New Noize Records in association with ADA Worldwide (the independent label and artist services division of Warner Music Group) HERE: https://paparoach.lnk.to/egotripgermany. Two-time GRAMMY nominee and multi-platinum certified PAPA ROACH are at the forefront of alternative Hard Rock. Just last year, the band celebrated the 20th anniversary of their classic album 'Infest'. Two decades later, the band's career is still in full swing and PAPA ROACH can record worldwide success.
Source: Press Release