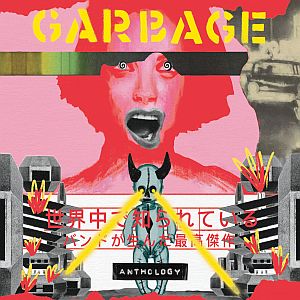 Influential Alternative Rock band GARBAGE have announced details about their new anthology release, due out October 28 via BMG / Stunvolume. 'Anthology' is the band's first "Best Of" collection in fifteen years and features material from across GARBAGE's impressive career spanning nearly 30 years. 'Anthology' features songs from their 1995 debut album 'Garbage' through tracks from their recent critically acclaimed 2021 album 'No Gods No Masters'. The release also includes the rare track 'Witness To Your Love' as well as original artwork by Chilean artist Javi Mi Amor, who also collaborated with the band on 'No Gods No Masters'.
Shirley Manson about 'Anthology': "This anthology is a testament to nearly three decades of creative work together, our collective tenacity, and our appalling ability as a group to endure ritualistic humiliation on a regular basis. Notwithstanding the inevitable changes and tides in the music industry, we're surprised we're still here, making records and touring the globe. This is in no small part a result of the amazing support we're receiving from our fans. Our love and thanks to everyone, for everything."
'Anthology' includes all the classic GARBAGE hits you would expect such as 'Stupid Girl', 'Queer', 'Only Happy When It Rains', 'Special' and fan favourite 'The Trick Is to Keep Breathing'. Also included is the brilliant Bond song 'The World Is Not Enough', '#1 Crush', her now iconic contribution to Baz Luhrmann's 'Romeo and Juliet' and her latest politically charged singles 'No Gods No Masters' and 'The Men Who Rule The World'. About 'The Men Who Rule The World' Shirley Manson says:
"The words just came out as we were recording. The movement in South America where women took to the streets, stood in front of their government buildings, and put their fists in the air demanding change inspired the song. We are all in this moment, in which we recognize that something is seriously broken in our culture".
'Anthology' will be available as a double CD album and double LP in transparent yellow - full track listing is below. Pre-order your copy here: https://garbage.lnk.to/AnthologyPR. By the way: GARBAGE will perform at the 'Sound of 007 in Concert' at the Royal Albert Hall in London on Tuesday 4th October together with Grande Dame Shirley Bassey.
Configurations

2CD EAN: 4050538819182

Total play time:
CD 1 – 01:10:23
CD 2 – 01:09:22
2-vinyl EAN: 4050538819151 (transparent yellow)

Total play time:
Vinyl 1 – 42:49
Vinyl 2 – 38:17
and digital
'Anthology' tracklist

CD1

01. Vow
02. Subhuman
03. Only Happy When It Rains
04. Queer
05. Stupid Girl
06. Milk
07. #1 Crush
08. Push It
09. I Think I'm Paranoid
10. Special
11. When I Grow Up
12. The Trick Is To Keep Breathing
13. You Look So Fine
14. The World Is Not Enough
15. Androgyny
16. Cherry Lips (Go Baby Go!)
17. Breaking Up the Girl
18. Shut Your Mouth
CD2

01. Why Do You Love Me
02. Bleed Like Me
03. Sex Is Not The Enemy
04. Run Baby Run
05. Tell Me Where It Hurts
06. Witness To Your Love (previously unreleased)
07. Blood For Poppies
08. Battle In Me
09. Automatic Systemic Habit
10. Big Bright World
11. Control
12. Empty
13. Magnetized
14. Even Though Our Love Is Doomed
15. No Horses
16. The Men Who Rule The World
17. No Gods No Masters
More information here

Web: https://garbage.com
Facebook: https://facebook.com/GarbageOfficial/
Instagram: https://instagram.com/garbage/
YouTube: https://youtube.com/user/garbage/
Twitter: https://twitter.com/garbage
Source: Press Release