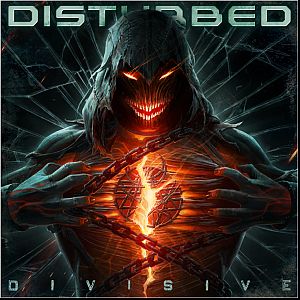 Multi-platinum rock heavyweights DISTURBED are preparing for a new era: their eighth album 'Divisive' will be released on November 18, 2022 via Reprise Records. A new single from the album, 'Unstoppable', is already available today, accompanied by a lyric video.
Frontman David Draiman says of 'Divisive': "There's a growing sense that tribal feuds are the order of the day. The people seem trapped in a single great war between hostile clans. The album was intended as a kind of wake-up call. Our society is so riddled with anger and music can be a cure for that if everyone just reaches out and takes the chance. Live music can be an outlet to forget all that shit. If we get involved, we might even find that we have more in common than we previously thought. Look around, we can change our environment for the better."
Dan Donegan, the band's guitarist, adds: "The only way we can tackle the problems is together. We've always tried to look at negative issues from a positive side in our songs. On the many tours around the world, we have learned that music is a universal language that brings people from all walks of life together. We were able to connect people with our songs, which we're pretty proud of."
With a powerful riff, beating drums and the band's typical staccato vocals, 'Unstoppable' unstoppably crushes everything that gets in its way like a hurricane. In the stadium-ready refrain, Draiman thunders at his fans as if straight from the eye of the cyclone: "There's no escape. I am unstoppable". The accompanying lyric video transforms this power - absolutely appropriate for the track - into a frenetic way in a visual firework.
Draiman comments: "'Unstoppable' is definitely one of the heavier tracks on the album. The groove develops like a wild spectacle of nature. A real fight song." "We have a rock anthem on every album," Donegan explains. "We love to write powerful, uplifting songs, which probably has something to do with the fact that we're all die-hard sports fans. The song certainly reflects that."
'Divisive' is a precise, energetic Hard Rock opus. The ten tracks were recorded by the foursome over the past year in Nashville, Tennessee with producer Drew Fulk (MOTIONLESS IN WHITE, LIL PEEP, HIGHLY SUSPECT). After Donegan pitched his original ideas for the songs to the rest of the group, the four worked together to create the song structures - a new approach for the band. Drummer Mike Wengren places some of the strongest and tightest drumbeats of his musical career here, underlined by John Moyer's powerful bass. Together, the musicians evoke the spirit of their ground-breaking early work, complemented by mature songwriting skills and the distinctive musical chemistry that could only come from years of playing and touring together.
The epic, emotionally charged duet 'Don't Tell Me' with Ann Wilson marks the band's first guest contribution on an album, while tracks like 'Bad Man' and 'Divisive' can easily be counted among the band's heaviest material , while songs like 'Won't Back Down' impress with their uplifting melodies. DISTURBED laid the foundation for the album in July with 'Hey You'. The song spread like wildfire over the airwaves and earned the band their 15th #1 single on the US ROCK RADIO charts. In total, the track has already been streamed more than 10 million times - one can assume that 'Divisive' will be eagerly awaited by the fans. DISTURBED will also be appearing at various US festivals throughout the fall.
Tracklist

01. Hey You
02. Bad Man
03. Divisive
04. Unstoppable
05. Love To Hate
06. Feeding The Fire
07. Don't Tell Me [feat. Ann Wilson]
08. Take Back Your Life
09. Part Of Me
10. Won't Back Down
DISTURBED came together in Chicago at the turn of the millennium to transform Hard Rock with their unique energy. They make music that motivates people to fight and persevere. Over time, they've climbed to the top of the 21st century Rock Olympus, with record-breaking achievements: more than 17 million units sold, almost 8 billion streams and sold-out shows worldwide. The quartet has won two Grammy Awards and managed the rare feat of having five consecutive albums #1 on the US Billboard Top 200. This historic achievement secured them a place in the history books alongside Metallica, who were the only other Hard Rock band to achieve this historic chart record.
Since releasing their five-time platinum debut album 'The Sickness' in 2000, they've accumulated a rock-solid repertoire of hits, including US platinum songs like 'Stupify', 'Inside The Fire' and 'Land of Confusion', double US platinum 'Stricken', 6x US platinum 'Down With The Sickness' and 7x platinum 'The Sound of Silence', which has diamond status in Germany, got a Grammy nomination for 'Best Rock Performance' and an award for 'Best Rock Artist' at the 2017 iHeartRadioMusic Awards. The accompanying album 'Immortalized' (2015) has platinum status in Germany. Despite all their successes, DISTURBED are still hungry, and with their album 'Divisive' and hits like 'Hey You' (15th No. 1 position in the American ROCK RADIO charts) and 'Unstoppable' they continue with their previous successes.
Source: Press Release