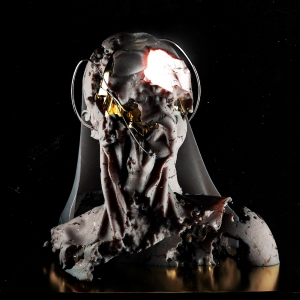 "There is a specific type of grief that comes from witnessing the brutality of what humans are capable of towards each other. If that grief goes unprocessed, it is doomed to also manifest as brutality," says Phoenix-based musician and producer Sam An. "There have been many moments while writing this record that I was grieving through an event that was personal or worldwide, and then another sudden, tragic event would happen. I needed to re-evaluate what I wanted to say because my world and perspective had shifted again. Trying to keep up with tragedy can make one feel helpless, and one way to feel in control is through acts of destruction. My personal impulse towards destruction nearly ended this project."
Set for release March 17th, 2023, on 2XLP / CD / Digital through Gilgongo Records, 'Strega Beata' is the 3rd full-length album from Sam An's Dark Electronic, genre-bridging solo project under the semi-notorious moniker LANA DEL RABIES. After a brief hiatus, this record is her first full-length release since the Gothic, Industrial Noise of 2018's 'Shadow World'. 'Strega Beata', which loosely translates to "Blessed Witch", is an apocalyptic myth told through dense, textural compositions pulling from the vast corners of dark genre music. The title's meaning is appropriate for the existential, cathartic, and otherworldly themes explored. Today, along with the album's announcement, she has shared the pounding, entrancing first track from the record, entitled 'A Plague'.
"A Plague was initially written before the Covid-19 Pandemic began, and refers to the angst of living through an overwhelming number of manmade atrocities, absorbed personally and peripherally by everyone all at once in today's world" she comments. "The album 'Strega Beata' is an allegory told from the evolving perspective of a mythological, cryptic creator figure, who is responsible for humanity but not in control of the world we have created. This track is an expression of the fury towards mankind's current state of self-destruction, while declaring vengeance through the same futile means of destruction."
Other streaming options: https://songwhip.com/lanadelrabies/a-plague
Written, produced, and almost entirely performed by An, she says, "I started writing the third record immediately after the promotion of 'Shadow World'. I had recently become sober and was mending myself not just from experiences of abuse and trauma that occurred throughout my life, but processing how I had abused the people closest to me in my most out of control moments. I also at the time had a job involved in child welfare, and the violent separation and exploitation of children at the US / Mexico border was happening miles from where I grew up and affecting the community around me. Brutality often feels like it is everywhere with how we experience the world now, but for the first time, I could not numb myself from it. That awareness only extended through the world events we all have had to live through these last few years, and the personal loss that came from that. I began working through the pain of abuse, death, and grief, through an actual story in my work."
This is where the mythical allegory in 'Strega Beata' begins - the record is told through the evolving perspective of a cryptic and obscure "Mother" creator figure, specifically echoing the mother and crone goddess archetypes. This figure is vocalized through LDR's eerie harmonies, spoken words, pleading howls, and frenetic screams aimed towards another archetype, the chosen one. These vocalizations sometimes hover above trip-hop low tempos and unnerving atmospheres ('Mourning', 'Hallowed is the Earth'), sink through vintage horror movie darkwave synths ('Master', 'Apocalypse Fatigue'), weave through art metal distortions and relentless drone bass tones ('Mother'), or blast through unconventional industrial rhythms ('Prayers of Consequence', 'A Plague').
Ultimately, 'Strega Beata' is a deep exploration of the cyclical consequences of unhealed grief for us and our world. "I have used this story to process the harm that power enables. There is a fine line between empowerment and using power to cope with the feeling of losing control. I thought a lot about the power of the natural world, particularly storms, while writing this. Storms are created by opposing pressures, causing destruction. It's interesting how some ideologies will co-opt storms in their iconographies and language, but don't acknowledge that storms are events that cannot be controlled or contained. The way out of pain is by reconciling what you cannot control and taking ownership of what you can. It is the only way to stop cycles of destruction. Sometimes you must complete another cycle before realizing you are ready to end it for yourself and others. I feel this record is the end of a destructive cycle for me, and why I returned to myself as this project."
More about LANA DEL RABIES: LANA DEL RABIES is the solo Dark Electronic, genre-bridging solo project of Phoenix based musician, producer and multimedia artist Sam An. With origins as an experimental project that re-contextualized the more ominous aspects of modern pop music made by women (like that of Lana Del Rey), LANA DEL RABIES' music incorporates Industrial, Gothic Noise and Metal, with Experimental, Darkwave and Ambient elements. Her work thematically embodies discordant spaces between the occult and the political, personal trauma and collective grief, and brutality and benediction. Her first two records, 'In The End I Am A Beast' (2016) and 'Shadow World' (2018), were released by Los Angeles based label Deathbomb Arc.
Tracklist

01. Prayers of Consequence
02. A Plague
03. Master
04. Mother
05. Grace The Teacher
06. Mourning
07. Hallowed is the Earth
08. Reckoning
09. Apocalypse Fatigue
10. Forgive
Links:
https://lanadelrabies.com
/
https://www.facebook.com/LanaDelRabiesMusic/
Source: Press Release