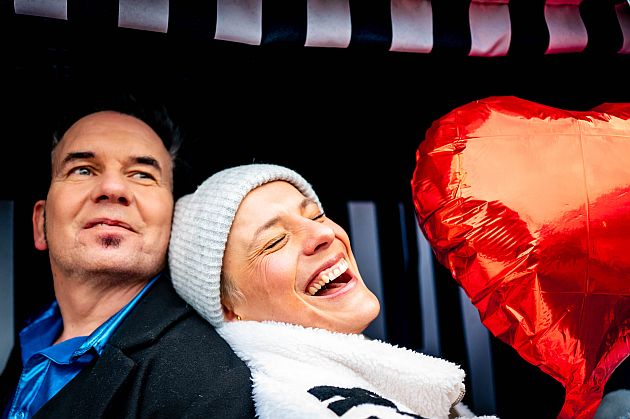 The band LEICHTMATROSE and the TV presenter Seraphina Kalze have had a "goosebumps video shoot" in the most literal sense: in icy temperatures and sometimes violent gusts of wind, they shot a music video for their joint single 'Love' on the beach of the Baltic Sea resort of Dahme in the past few days. The song is about two soul mates who end up reuniting in the very place where their love was born. "Togetherness has been a much stronger and more important topic in our society since the Corona lockdown," said the musicians about the song.
Fortunately, blow-dried hairstyles are not: "With the wind that we had during the shoot, it was completely unnecessary to style ourselves beforehand," the musicians continue. "We were blow-dried by the wind the whole time and were pretty frozen at the end." TV presenter Seraphina Kalze (Kabel 1 - Abenteuer Leben), who appears as a duet partner in the song and acting partner in the video, handled it very pragmatically: "I bought a new hat especially for the shoot, so that the topic with the hairstyle done from the start."
Seraphina Kalze, long-time acquaintance and music partner of the band's producer, Rick J. Jordan, already had a cameo appearance in the LEICHTMATROSE video 'Du Disko' and has been the boys' buddy for a long time. Inspired and enthusiastic about this idea, Andreas and Seraphina sang the song together in Hamburg after it had been musically rearranged by the two novice sailors Rick J. Jordan and Thomas Fest.
"It's unbelievable how wonderfully our two voices harmonize," says Andreas Stitz about the recordings. "We both had blatant experiences with Corona - Seraphina wasn't able to look after her father in need of care for months and I myself would be a hair's breadth in January 2021 died of Covid. Then a wave of emotions comes up and we were able to process that together in the song." And so the document of depressing days becomes an optimistic start into a new era.
The result will be available on February 10, 2023 on all streaming and download portals as well as on YouTube. In the spring, LEICHTMATROSE are on tour with ASP:
12.4. Hanover, Pavillon
13.4. Hamburg, Markthalle
14.4. Leipzig, Haus Auensee
20.4. Munich, Backstage
21.4. Dresden, Alter Schlachthof
22.4. Gotha, Stadthalle
23.4. Berlin, Huxleys Neue Welt
27.4. Saarbrücken, Garage
28.4. Oberhausen, Turbinenhalle
29.4. Cologne, Carlswerk Victoria
30.4. Stuttgart, Im Wizemann
1.5. Wiesbaden, Schlachthof
www.leichtmatrose.com
Source: Press Release / Picture by Thomas Fest