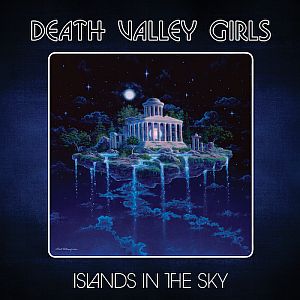 The band shares the title-track from upcoming album "Islands In The Sky" due Feb 24th via Suicide Squeeze Records. UK tour starts this month!
LA Mystic Rock mainstay DEATH VALLEY GIRLS share their final empowering title track 'Islands in the Sky' accompanied by a haunting visual directed by Dylan Greenberg. The band's new LP 'Islands in the Sky' was out February 24th via Suicide Squeeze Records and the band are set to tour across the UK this February and March.
About the track, lead-member Bonnie Bloomgarden offers: "We wrote 'Islands in the Sky' for our future selves, hoping that if we can share the secrets we have learned from this life, and all our past lives, we wouldn't have to suffer or feel alone again in our next carnations! You are not becoming the best version of yourself, you are and always have been, the highest and best you, eternally! You may have forgotten from societal programming, how you were raised, trauma, or ancestral circumstances, but as you grow, try to remember that the highest version of you, is cheering you on! Sending you messages to pay attention to your intuition and trust yourself. To love yourself. And to never forget…"
"You're in charge of
Your perception of your life
You can choose what you keep
And what you leave behind
No one gets to choose for you
What you need to keep.
All that lasts is all that matters
And what you want to think"
From director, Dylan Greenberg on the video: "When Bonnie approached me about making a video for this song, I was excited because the song connected with me immediately. The music and lyrics have a beautiful, melancholy optimism that called to mind a certain timelessness found in work by the Sherman Brothers and the late Burt Bacharach, with a rock/punk edge. The video was made remotely, so I wanted to put together an immersive digital environment for the band and the ghosts to be able to move in. My partner and I dressed in all black and wore ghost costumes they made and double exposed them into the video. It's an effect that's been done since the dawn of special effects by pioneers like George Melies, but with the benefit of digital effects allowing me to control them with a virtual camera. I wanted to make sure the movement, tone and visuals all matched the 'spirit' (no pun intended) of the song and had a flowing, optimistic energy that I felt emanated from the music."
Watch & listen to 'Islands in the Sky' here:
For the better part of a decade, LA's scrappy Rock'n'Roll mystics DEATH VALLEY GIRLS have used their music as a means of tapping into a communal cosmic energy. On albums like 'Glow In The Dark' (2016), 'Darkness Rains' (2018), and 'Under the Spell of Joy' (2020) the band challenged the soul-crushing banality of modern society and celebrated "true magical infinite potential" through a collage of scorching proto-punk riffs, earworm melodies, far-out lyrics, and lysergic auxiliary instrumentation. But on their latest album 'Islands in the Sky', DEATH VALLEY GIRLS' songwriting mastermind Bonnie Bloomgarden uses the band's anthemic revelries as a guidebook to spiritual healing and a roadmap for future incarnations of the self. And while these may be the loftiest aims of DEATH VALLEY GIRLS to date, the resulting music is also by far their most infectious and celebratory.
The seeds for 'Islands in the Sky' were planted while Bloomgarden was bed-ridden with a mysterious illness from November 2020 to March 2021. "When I was sick, I had to sleep most of the day. I kept waking up every few hours with an intense message to take care of the island, feed the island… I have no idea why, but making music for the island kept coming up."
Before her illness, Bloomgarden's primary focus was writing songs to help other people deal with their own suffering. But something in her shifted, and she began to turn her focus inward. "When I was sick, I started to wonder if it would be possible to write a record with messages of love to my future self. This was really the first time that I consciously thought about my own suffering and what future me might need to hear to heal. I struggled so much in my life with mental health, abuse, PTSD, and feeling like I didn't belong anywhere. And I don't want anyone - including my future self - to suffer ever again. I realized that if we are all part of one cosmic consciousness, as we [DEATH VALLEY GIRLS] believe, then Islands in the Sky could serve not only as a message of love and acceptance to myself, but also from every self to every self, because we are all one!"
If this sounds too cerebral or esoteric, don't worry. At its core, 'Islands in the Sky' is a party - a riotous, danceable, sing-a-long celebration of life, love, and mystery. The bulk of the album was channelled into being when Bloomgarden and drummer Rikki Styxx went out to a cabin in the California woods on New Year's Day 2022 to hunker down and harness the songs from the ether. Further bolstered by Larry Schemel's guitar prowess and the addition of new bassist and co-lead singer Sammy Westervelt, DEATH VALLEY GIRLS set out to make their most ambitious and exciting record to date at Station House Studio in Echo Park.
Pre-order album here:
https://lnk.to/DVG5
See Death Valley Girls live:

Feb 22 - CH - Dudingen - Bad Bonn
Feb 23 - FR - Annecy - Hors Pistes Fest
Feb 25 - DE - Berlin - Berghain Kantine
Feb 28 - UK - London - Moth Club
Mar 1 - UK - Nottingham - Bodega
Mar 2 - UK - Newcastle - The Cluny
Mar 3 - UK - Manchester - Projekts Skatepark
Mar 4 - FR - Lille - L'Aéronef
Mar 7 - FR - Nimes - Paloma
Mar 9 - FR - Macon - Le Matilda
Mar 10 - FR - Bordeaux - Bordeaux Rock(festival)
Mar 11 - FR - St Malo - La Route du Rock Hiver (festival)
Mar 14 - The Quarry - Bisbee, AZ
Mar 15-17 - SXSW - Austin, TX
Mar 18 - Beer City Music Hall - Oklahoma City, OK
Mar 20 - Lost Lake - Denver, CO
Mar 21 - Quarters - Salt Lake City, UT
Mar 23 - Treefort Music Festival - Boise, ID
Mar 24 - The Loving Cup - Reno, NV
Mar 25 – Eli's Mile High Club - Oakland, CA
Mar 31 - Whistle Stop - San Diego, CA
Apr 1 - Pappy & Harriets - Pioneertown, CA
'Islands in the Sky' tracklist

01. California Mountain Shake
02. Magic Powers
03. Islands In The Sky
04. Sunday
05. What Are The Odds
06. Journey to Dog Star
07. Say It Too
08. Watch The Sky
09. When I'm Free
10. All That Is Not of Me
11. It's All Really Kind Of Amazing