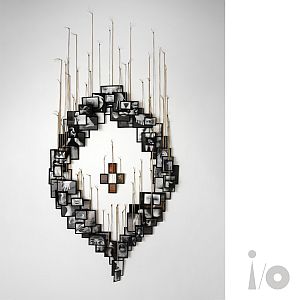 On March 7th, just in time for the new full moon, Peter Gabriel released the third song from his upcoming album 'i/o' with 'Playing For Time'. The track comes with artwork by artist Annette Messager. 'Playing For Time' was written and produced by Gabriel. Tom Cawley can be heard on the piano. The orchestral arrangements, recorded with musicians who previously e.g. played in the New Blood Orchestra are by Ed Shearmur.
"'Playing For Time' is a song that I've been working on for a long time and have played live without lyrics. So, it'll look familiar to some people," Gabriel said. "It's an important song for me. It's about time, mortality and memories - the idea that each of us has a planet full of memories hidden in the brain. It's a more personal piece about how memories are made and whether we're prisoners of time or if that's something that can actually set us free. I think it's good to challenge yourself to have interesting and daring experiences because you'll have richer memories to draw on when you get to my age. Every transformative experience you go through will also teach you something."
Tom Cawley on piano and Ed Shearmur's arrangements are two interesting references to Gabriel's earlier work. Cawley, who played piano on the "New Blood Tour", was an obvious choice: "Although I've played a lot live myself, I felt this was something I could team up with a real piano player for. And Tom Cawley is a brilliant musician."
The connection to Ed Shearmur goes back much further. "I thought about 'That'll Do', the Randy Newman song I was singing. Ed Shearmur wrote a beautiful arrangement for it and I thought something along those lines might suit the song very well. So, we tracked Ed down. When I first heard the demos, it brought tears to my eyes because I felt so much emotion there, especially towards the end. It was definitely what I wanted to try and do with this song, this emotional journey. He means a lot to me."
Gabriel's thoughts on time were also inspired in part by the work of the Long Now Foundation and Danny Hilli's extraordinary invention: the 10,000 Year Clock. It was designed with the intention of encouraging long-term thinking. "I'm sure that if we have any chance of surviving the existential problems we're facing now, we're going to have to think a lot bigger and broader to really move forward. I think what they are doing there is extremely valuable and there are some great talks on the Foundation side. For anyone wanting to delve deeper into the role of time and long-term thinking, the Long Now Foundation is a wonderful place to start."
Like the previous two 'Full Moon' releases, 'Playing For Time' comes with different mix approaches: Tchad Blake's Dark Side mix on March 7th, as well as Mark "Spike" Stent's Bright Side mix and Hans-Martin Buff's Atmos In-Side Mix throughout the month.
This month's song's artwork is by visual artist Annette Messager, who has long been an admirer of Gabriel. "I came across the work of Annette Messager many years ago, a wonderful artist who I had already eyed for the 'Art From Us' project. I thought she would be just the right person to ask her to contribute to this song. Annette is a pioneer in the art of sculpture and if you look at her work you will see that she has influenced quite a few young artists. It's great that she wanted to be there. I strongly recommend looking into their work. They are full of life, although many have death and memory at their core."
PETER GABRIEL LIVE
26.05. Berlin – Waldbühne
28.05. Munich – Königsplatz
10.06. Cologne – Lanxess Arena
12.06. Hamburg – Barclays Arena
13.06. Frankfurt – Festhalle