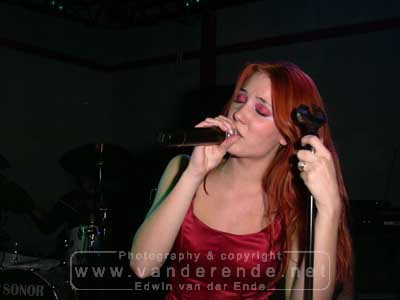 This is one of the first pictures EDWIN VAN DER ENDE made from gothic band Epica in 2003. None could foresee that it was the beginning of a big passion. And also with this webzine as a result. More than 1400 concerts later, there is his own exhibition in P60, Amstelveen, The Netherlands.
The exhibition has a free entrance. Only in the café section of the venue. From 5th September till 10th October 2009. A special part of the photo collection is the 'Underground Frequencies.' From the evenings in P60 with bands like Covenant, Diary Of Dreams and many others.
VAN DER ENDE selected over hundred pictures from very diverse bands. Like Roger
Waters, Joe Cocker, Kane and Aerosmith. But also bands like Epica (second picture), Tristania, Stream Of Passion and Marilyn Manson.