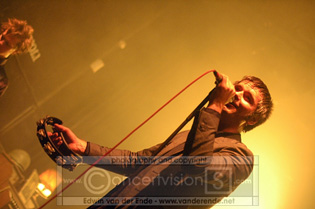 Zeche, Bochum, Germany
22nd November 2006
Kaizers Orchestra, HGH

The road calls again for Kaizers Orchestra! To conclude the Maestro Tour of 2006 the band set out for "The Grand Finale Tour" consisting of 21 shows in eight countries this November/December. Check it out! On 22nd November the band will stop in Bochum / Germany. KAIZERS ORCHESTRA are six hot blooded you Norwegians who want to conquer the continent with their explosive mix of Rock, Punk and East-European music. Nothing you should miss! Special guest for the show in Bochum will be HGH. Doors open at 19:00, start of the show is 20:00. Pre-sale tickets are 24.15 EUR. The price for getting tix at the box office is not set yet.
Here are some statements of Rune Mink Kaizer how the band is holding up:
- Oh, things are good, we're in great shape and the shows so far this summer have been awesome!

What shows have you done lately?
- We went to Switzerland for a day to play the Gurten Festival, that was pretty cool, it started raining like crazy in the middle of the show and suddenly it was like a wet t-shirt contest combined with a concert, which was actually quite nice! After Switzerland we did a show in Norway and one at Arvika in Sweden. If the weather is nice summer festivals are good fun usually.

And this tour in the fall concludes the "Maestro" work for you boys?
- Yes, that will be the final tour supporting that album, which means that next time we go on tour there will be a new album coming out.

When can we expect that to happen then?
- According to our plans around March 2008, so we'll be relaxing, doing solo projects, composing and rehearsing in 2007.


All live Dates

28.10.2006 Ås, Norway Studentersamfunnet
07.11.2006 Sogndal, Norway Meieriet
08.11.2006 Brattvåg, Norway Ingebrigt Davik Huset
09.11.2006 Trondheim, Norway Samfundet
10.11.2006 Oslo, Norway Sentrum Scene
11.11.2006 Bergen, Norway Teatergarasjen
11.11.2006 Bergen, Norway Teatergarasjen
12.11.2006 Stavager, Norway FOLKEN
16.11.2006 Stockholm, Sverige New Debaser
17.11.2006 Göteborg, Sverige Trägårn
18.11.2006 Malmö, Sverige KB
19.11.2006 Esbjerg, Danmark Tobakken
21.11.2006 Cologne, Germany Live Music Hall
22.11.2006 Bochum, Germany Zeche
23.11.2006 Nuremberg, Germany Hirsch
24.11.2006 Munich, Germany Backstage
25.11.2006 Wien, Austria Wuk
26.11.2006 Zürich, Switzerland Rote Fabrik
28.11.2006 Berlin, Germany Postbanhof
29.11.2006 Hamburg, Germany Uebel & Gefaerlich
30.11.2006 Gent, Belgia Handelsbeurs
01.12.2006 Groningen, Holland Oosterpoort
02.12.2006 Amsterdam, Holland Melkweg
03.12.2006 Utrecht, Holland Tivoli
06.12.2006 Århus, Danmark Train
07.12.2006 Copenhagen, Danmark Vega
08.12.2006 Copenhagen, Danmark Vega
http://www.kaizers.no/
http://www.contrapromotion.com/