Grugahalle, Essen, Germany
2nd April 2014
ROCK MEETS CLASSIC with soloists Alice Cooper, Mick Box & Bernie Shaw from Uriah Heep, Kim Wilde, Midge Ure, Joe Lynn Turner and Mat Sinner with his band

Once again, the ROCK MEETS CLASSIC tour will be in 2014 an unforgettable concert experience at the highest stage. Already for the fifth time this unique crossover- project links, in a 3 hours lasting live programme, world- famous Rock-hits with emotionally Classic music, presented by legendary Rock musicians. With international top stars like IAN GILLAN (DEEP PURPLE), STEVE LUKATHER (TOTO) or LOU GRAMM (FOREIGNER) at the last four tours in concert halls, the line-up will now be completed with the announcement of the co-headliner MICK BOX and BERNIE SHAW from URIAH HEEP, who can look back on a more than 40 years band history and albums that were sold over 30 million times.


Even the further line- up appears – adequate to the anniversary – to be an all-star gathering: for the first time in his, more than 40 years unequalled career, headliner ALICE COOPER can be experienced live with a classical orchestra. He will be supported by the internationally renowned guitarist ORIANTHI who was touring with SANTANA amongst others. As special guest KIM WILDE could be won over. Furthermore there will be MIDGE URE (ULTRAVOX) and JOE LYNN TURNER (RAINBOW) at the ROCK MEETS CLASSIC 2014. Thus the guests can look forward to hear absolute hit- classics like 'School's out', 'Lady in black', 'I surrender', 'Vienna' as well as 'Kids in America' amongst other evergreens. Once again the singer will be accompanied by the MAT SINNER BAND and the BOHEMIAN SYMPHONY ORCHESTRA PRAGUE.

You can get excited about an extraordinary concert event with worldwide hits in a new appearance which is thrilling nowadays all generations like they did in the past. As a whole there will be 60 top- class artists ignite a superb firework of their greatest hits. An extravagant light show, attuned to the performance, will give the show a special visual experience. 'ROCK MEETS CLASSIC' gathered, due to its high quality, a steady growing fan- base.

Information about the artists
This year's headliner ALICE COOPER is a real institution of Rock history. For the merits of his ALICE COOPER BAND, existing from 1964 to 1974, in the Rock'n'Roll domain, they were established in the Rock Hall of Fame. The solo career of this eccentric musician reached after 'Welcome to my nightmare' with the album 'Trash und the hit single 'Poison' in 1989 once again its pinnacle. Until now the originator of the Rock- Horror- Show sold more than 50 million albums and his legendary performances are infamous. Besides his peerless musically career ALICE COOPER could be seen in numerous films or serials like 'Nightmare on Elm Street', 'Wayne's World' or in the Tim Burton's remake of 'Dark Shadows', where the film buff usually represents himself.

URIAH HEEP have – until now – sold more than 30 million albums and thus rank among DEEP PURPLE, LED ZEPPELIN or BLACK SABBATH to the early and most successful representatives of Hardrock music. Being more than 40 years in the music business URIAH HEEP reached the Olympus of Rock. Whereas nowadays MICK BOX is the only left founding member from 1969, band- mate BERNIE SHAW joined the band in 1986 as singer. The, already in 1971 released, song 'Lady in Black', sung by KEN HENSLEY, from their second album, is the best known song of the legendary British band.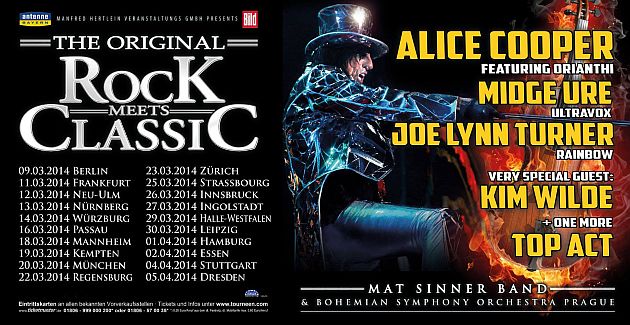 With KIM WILDE there is in 2014, too, once again a woman at the star studded concert of 'ROCK MEETS CLASSIC'. Her single 'Kids in America (1981) was her first international Top 5 hit. With her cover- version of the SUPREME classic hit 'You keep me hangin' on' she returned in autumn 1986 more successful than ever. In 1988 she was engaged as supporting act for the European tours of MICHAEL JACKSON and DAVID BOWIE and the music business cannot be imagined without her.

MIDGE URE celebrated his greatest success as singer of the New- Wave band ULTRAVOX with hit singles like 'Dancing with tears in my eyes', 'Vienna' and 'Hymn' amongst others, as well as solo artist from 1980 to 1985 with 'If I was'. For his social engagement he was decorated with the title of Honorary Doctor and the Order of Merit OBE ('Officer of the British Empire'). Nowadays he still tours successfully as soloist all over the world.

The legendary vocalist JOE LYNN TURNER is a real old hand of Rock history. Besides his solo career and his own project BRAZEN ABBOT he performed with the Rock bands RAINBOW and DEEP PURPLE. His greatest hit singles were 'Since you've been gone' and 'I surrender'. The latter reached the third position of the single charts in Great Britain.

Also for the fifth edition of 'ROCK MEETS CLASSIC', MAT SINNER performs as musical director with his international top- class engaged 'MAT SINNER BAND'. And together with the symphonic power of the 'BOHEMIAN SYMPHONY ORCHESTRA PRAGUE' they will melt the borders of popular and serious music.

Together ALICE COOPER, MICK BOX and BERNIE SHAW, KIM WILDE, MIDGE URE and JOE LYNN TURNER can look back on more than 130 million sold albums and over half a century of music history.

Additional Concert Info
Doors: 7:00 pm
Starts: 8:00 pm
Ticket fee: 56.50€ - 86.50€+ Charges (Pre- Sales)
Tickets can be bought at http://www.ticketmaster.de/artist/rock-meets-classic-tickets/865378
Information: http://www.tourneen.com/Rock-und-Pop/Rock-meets-Classic-mit-grossem-Orchester-Rockband.html / http://www.matsinner.com/ / https://www.facebook.com/RockMeetsClassic

All Dates
09.03.2014 Berlin, Tempodrom
11.03.2014 Frankfurt, Jahrhunderthalle
12.03.2014 Neu-Ulm, Ratiopharm Arena
13.03.2014 Nürnberg, Arena
14.03.2014 Würzburg, s. Oliver Arena
16.03.2014 Passau, Dreiländerhalle
18.03.2014 Mannheim, SAP Arena
19.03.2014 Kempten, BigBox
20.03.2014 München, Olympiahalle
22.03.2014 Regensburg, Donau Arena
23.03.2014 Zürich, Hallenstadion
25.03.2014 Straßbourg, Zenith
26.03.2014 Innsbruck, Olympiahalle
27.03.2014 Ingolstadt, Saturn Arena
29.03.2014 Halle / Westfalen, Gerry-Weber-Stadion
30.03.2014 Leipzig, Arena
01.04.2014 Hamburg, O2 World
02.04.2013 Essen, Grugahalle
04.04.2014 Stuttgart, Porsche Arena
05.04.2014 Dresden, Messe