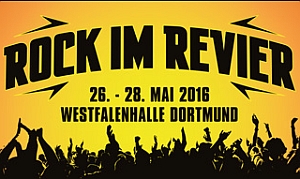 Westfalenhalle, Dortmund, Germany
26th to 28th May 2016
Rock im Revier 2016 with Mando Diao, Garbage, Iron Maiden, Sabaton, Nightwish, Slayer and many more…

After a highly successful festival in 2015, Rock im Revier is going into the second round this year. Also in 2016, Rock im Revier will stay in the Ruhr area. As location the promoters chose the Westfallenhalle in Dortmund this year and offer a high-class line-up. For Dortmund, four new bands are confirmed: Scottish Alternative Rock band GARBAGE around singer Shirley Manson, Finnish cello rockers APOCALYPTICA, Hardcore Metal punkers SUICIDAL TENDENCIES and the radio rockers of PRIME CIRCLE from South Africa.
Day 1

PRIME CIRCLE, POWERWOLF, GARBAGE, and MANDO DIAO – these are the powerful four that are going to kick off the festival on May 26 in Dortmund's Westfalenhalle.
The first festival day is indeed quite diverse. So, what's on the menu for our ears? As a first course there's going to be some Alternative Rock presented by the opening act PRIME CIRCLE. The award-winning band hails from Johannesburg, South Africa, and has released six albums so far. Guitarist and vocalist Ross Learmonth is accompanied by Marco Gomes on bass, Dale Schnettler on drums, Dirk Bisschoff on Lead Guitar, and Neil Breytenbach on keys. Their at times post-grungy and at times poppy sounding Rock anthems will sound the bell at the first festival day in the rocking Ruhr area.
Then, we'll have a generous portion German Power Metal by POWERWOLF, who are Attila Dorn on vocals, Matthew Greywolf and Charles Greywolf on guitars and bass, Falk Maria Schlegel on the organ, and Roel van Helden on drums. These powerful wolves are well known for playing epic and highly melodic Heavy Metal and have released their sixth record, 'Blessed & Possessed', last year. Do you want to join in POWERWOLF's "Army of the Night" and practice not only your English, but also your Latin? Then come to Rock im Revier to bang your head and sing along!
Do you remember the hit single 'Stupid Girl' from 1996 or the theme song 'The World is Not Enough' from the 1999 James Bond movie? Then you know of the Scottish-American Alt Rockers called GARBAGE, who are Shirley Manson (vocals, keys, guitar), Butch Vig (drums), Duke Erikson (bass, guitar, keys), and Steve Marker (keys, guitar), and can't wait to hear their diverse pop tunes with a touch of Grunge, Rock, Punk, Electronica, and Trip Hop, just to list a few genres.
The long-awaited and much-loved dessert will be served by Indie Pop Rockers MANDO DIAO from Sweden. They have released seven studio album so far and are currently Björn Dixgård (vocals, guitar), Carl-Johan Fogelklou (bass), Daniel Haglund (keys), and Patrik Heinkipieti (drums). The Scandinavians have rocked out at quite a few festivals here in Germany in the past years and should feel like home playing at Rock im Revier and celebrating with their fans.
Additional Festival Info Day 1

Doors: tba
Starts: tba
Tickets: Tickets for day 1 are available from 59.50€ (plus fees) at
www.myticket.de
,
www.ticketmaster.de
, and
www.eventim.de
Info PRIME CIRCLE:
https://www.facebook.com/Prime.Circle
/
http://www.primecircleband.com
Info POWERWOLF:
https://www.facebook.com/powerwolfmetal
/
www.powerwolf.net
Info GARBAGE:
https://www.facebook.com/GarbageOfficial
/
http://www.garbage.com
Info MANDO DIAO:
https://www.facebook.com/mandodiaomusic
/
www.mandodiao.com
Day 2

Can things get even more exciting? Yes, at the Rock im Revier festival they can! It's gathering of the international elite of Rock and Metal music, so be prepared for many more treats for the ears on the second day with THE RAVEN AGE, THE WILD LIES, TREMONTI, GHOST, SABATON, and IRON MAIDEN.
First, there will be two great newcomers from London, Great Britain: THE RAVEN AGE, playing heavy tunes with powerful melodic vocals, and the Rock act THE WILD LIES. Then, chief guitarist and vocalist Mark Tremonti from ALTER BRINGE and CREED will play together with his Metal solo band under the name of TREMONTI. This project stands for a blast of Hard Rock, Metal, and Alternative. Next up are singer and demon pope Papa Emeritus III and his band of Nameless Ghouls. The occult rockers are well-known for celebrating a creepy GHOST mass full of unholy verses and beautiful melodies. Once the satanic ministry will leave the stage, the soldiers and "heroes" from SABATON will bring on some epic and bombastic head-banger material. Keep the horns up!
Don't miss the almighty IRON MAIDEN! During their "The Book Of Souls" world tour, the band can only be seen at the already sold out Wacken festival, at a show in Berlin, at the Rockavaria festival, and on May 27 at Rock im Revier! The band will fly in with their own jumbo navigated by vocalist Bruce Dickinson. The jumbo baptized "Ed Force One" will transport the musicians, the crew, and the complete equipment for over 90.000 kilometers across 35 countries. In over 40 countries the British Heavy Metal legends have reached the top of the charts with their record `The Book Of Souls´.
Additional Festival Info Day 2

Doors: tba
Starts: tba
Tickets: Tickets for day 1 are available from 79.50€ (plus fees) at
www.myticket.de
,
www.ticketmaster.de
, and
www.eventim.de
Info THE RAVEN AGE:
https://www.facebook.com/TheRavenAge
/
http://theravenage.org
Info THE WILD LIES:
https://www.facebook.com/TheWildLies
/
http://thewildlies.com
Info TREMONTI:
https://www.facebook.com/MarkTremonti
/
https://fret12.com/mark-tremonti
Info GHOST:
https://www.facebook.com/thebandghost
/
http://ghost-official.com
Info SABATON:
https://www.facebook.com/sabaton
/
http://www.sabaton.net
Info IRON MAIDEN:
https://www.facebook.com/ironmaiden
/
http://ironmaiden.com
Day 3

Needless to say that the final festival day is also going to be huge fun ranging from the brutal to the symphonic, or even a combination of both. You can look forward to SUICIDAL TENDENCIES, APOCALYPTICA, GOJIRA, IN EXTREMO, ANTHRAX, SLAYER, and NIGHTWISH.
We'll start with some Crossover Trash and Hardcore Punk by the American band SUICIDAL TENDENCIES, who are Mike Muir (vocals), Dave Lombardo (drums), Dean Pleasants (guitar), and Ra Diaz (bass). Then, APOCALYPTICA, the Finnish cellists Eicca Toppinen, Perttu Kivilaakso, Paavo Lötjönen, and drummer Mikko Sirén, will share their wonderful and unique cello Metal with us. They're currently on tour presenting the their latest masterpiece 'Shadowmaker' and are accompanied by the vocalist Franky Perez.
Moreover, the "wild children" GOJIRA from France will be there on May 28. Being called after the well-known giant monster, they also sound like it: heavy and extreme. Joe Duplantier on guitar and vocals, Mario Duplantier on drums, Christian Andreu on guitar, and Jean-Michel Labadie on bass have released five records so far. After GOJIRA there'll be a different kind of the "extreme" musicians on the program: the German combo IN EXTREMO playing their unique kind of Medieval Rock/Metal. If a rock band enriches its sound with historical instruments, such as, just to name a few, bagpipes, a harp, a hurdy-gurdy, a shawn, a cittern, and various types of percussion and also sings not only in German but in a ton of other languages as well, the result can only be fantastic and great fun. The seven multi-instrumentalists have been around since 1995 and they know for sure what they do. About a month after the festival, on June 24, their new album 'Quid Pro Quo' will be out. Who knows, maybe they will also give us a taste of their new tunes at the Rock im Revier.
Craving some Trash? ANTHRAX will deliver some as they're one of the legendary "Big Four" in the genre having influenced its style since the 80s. The New Yorkers will bring along their new album `For All Kings´ which in well-informed circles is already seen as one of the most important Metal releases of 2016. With their new album 'Repentless', SLAYER, the titans of Trash Metal, can boast with the pole position in Germany and may be held responsible for full houses at their current tour and a lot of aching necks.
And saving the best for last: The "Edema Ruh" NIGHTWISH will grace the stage and conjure up a grand spectacle! The kings and queen of Symphonic Metal – Tuomas Holopainen (keyboards), Marco Hietala (bass & vocals), Emppu Vuorinen (guitars), Kai Hahto (drums), Troy Donockley (Uilleann pipes, bodhran, low whistles, bouzouki, vocals), and Floor Jansen (vocals) – will blow the Rock im Revier crowd away with their awe inspiring music. Their repertoire consisting of eight records, the latest opus titled `Endless Forms Most Beautiful´, promises a bombastic show including many goose-bumps moments. And so, this year's Rock im Revier in Dortmund will end without any doubt on a high note.
Additional Festival Info Day 3

Doors: tba
Starts: tba
Tickets: Tickets for day 1 are available from 69.50€ (plus fees) at
www.myticket.de
,
www.ticketmaster.de
, and
www.eventim.de
Info SUICIDAL TENDENCIES:
https://www.facebook.com/suicidaltendencies
/
http://www.suicidaltendencies.com
Info APOCALYPTICA:
https://www.facebook.com/Apocalyptica
/
http://www.apocalyptica.com
Info GOJIRA:
https://www.facebook.com/GojiraMusic
/
http://www.gojira-music.com
Info IN EXTREMO:
https://www.facebook.com/officialinextremo
/
http://www.inextremo.de
Info ANTHRAX:
https://www.facebook.com/anthrax
/
http://anthrax.com
Info SLAYER:
https://www.facebook.com/slayer
/
http://www.slayer.net
Info NIGHTWISH:
https://www.facebook.com/nightwish
/
http://nightwish.com
Timetable


Additional General Info

Weekend Tickets: from 125.00 € (plus fees) at
www.myticket.de
,
www.ticketmaster.de
, and
www.eventim.de
Festival Info:
www.rock-im-revier.de
/
https://www.facebook.com/rockimrevier
Facebook Event:
https://www.facebook.com/events/544818822338558/