Wortegem-Petegem, East-Flanders, Belgium
23rd August 2016
W-Festival with Alphaville, Peter Hook & the Light, Marc Almond, Sian Evans (Kosheen), Heaven 17, Scritti Politti and more

It's new! It's hot! It's 80ties! It's new wave! It's yours! This new Festival in Belgium offers some great 80s bands you rarely see live on the same stage. THE SERIOUS FIVE will open the festival. We'd like to think of THE SERIOUS FIVE as the Belgian FAD GADGET. The group was discovered during the "Gentse feesten" early 90ties and experienced a successful period of many years. Today, years later, they resurface with a new EP. They have chosen the W-Festival as the launch moment of that EP.
PORTRAIT B will be next. It's Belgian, its unique, its new, its supervised by no other than Luc Van Acker, its modern new wave à la Belge and its present on the W-Festival to bring their newest EP - and much more - live. Discover with us this upcoming band! You'll love it! Next one in the line-up is WHISPERING SONS. This new Belgian band - lead by a woman - calls itself the new generation punk/ cold wave. And they just might be on to something big! You can aspect a mixture of a SIOUXIE AND THE BANSHEES and SISTERS OF MERCY sound. Without losing their own identity. This is a real discovery and feast to our ears. Enjoy! As we are sure you will! Last one of the Belgium bands in the line-up is DE BRASSERS. If you look for the roots of Belgian Punk you will automatically see DE BRASSERS as the very first name on the list! In the 70ties, the band was inspired by the sound of the very best e.g. THE CLASH, THE DAMNED etc. and succeeded in giving the genre a very own Belgian sound. They have a strong live-reputation and bring a set you are not likely to forget very soon...
Following the Belgium bands are great names you all know. First of them is HEAVEN 17. Born out of THE HUMAN LEAGUE, HEAVEN 17 marked the 80ties and the world as a superb synth pop band. 'Temptation', 'And that's no lie' are but two of their hit-songs. HEAVEN 17 is part of the UK's rich synth pop and new wave heritage. Their inspired many other groups and left long lasting memories to thousands of fans during their multiple concerts. Now you will have the opportunity to grasp their powerful live-performance and carry that long lasting memory with you for decades to come. HEAVEN 17 are the W-Festival 5th headliner and rightfully so! Next band on the schedule is SCRITTI POLITTI. Wikipedia tells us SCRITTI POLITTI is THE British synth pop band of the 80ties, and they just might be right! 'Wood Beez', 'Absolute' and 'Perfect Way' are just three superb hits amongst many the group has brought us. On august 23rd, they will bring us a 60 minutes set of synth pop taking us down memory lane! Don't be shy to sing along, we know you will want to.
Sian Evans, front lady and the "face" of KOSHEEN, produces superb electronic pop songs since the 80ties. Her voice and impressive use of various instruments are the basis of an unique sound like no other within the scene! The songs just stick to you ! Sian will perform with her new live band and promises a set containing all her old songs as well as her brand new stuff! Really something to look forward to! MARC ALMOND joins the line-up of the W-Festival too. And we are thrilled to have Marc onboard! MARC ALMOND scored numerous world-hit records ('Tainted Love' to name but one) and started in 1984 a successful solo career. And now he joins the stage bringing an unique performance, in sound & vision! PETER HOOK & THE LIGHT do not need an introduction. As proud member of former JOY DIVISION and NEW ORDER, now performing with his own band, Peter's set will bring back the sound of the mysterious 80ties for sure!
ALPHAVLLE from Münster joins the W-Festival as headliner. ALPHAVLLE, the German based formation, scored big in the 80ties! With synth pop classics such as 'Sounds like a Melody', 'Big in Japan', 'Forever young', 'Summer in Berlin' etc... What's more, the band kept on touring since then bringing their hit-records live to the world! It has been a while since Belgium was on their map, but now we have them onboard as our main headliner. And expect them to be Big in Belgium this time! ALPHAVILLE will be followed by a surprise act which is not announced yet.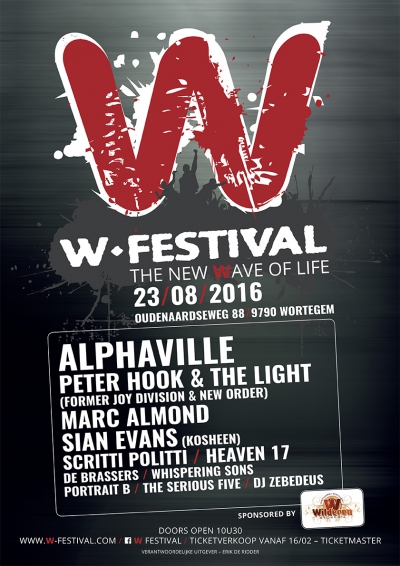 Tickets

Day ticket: 53 EUR
Combi ticket (Day ticket + parking ticket + 2 * drink voucher): 68 EUR
VIP ticket (all inclusive, parking, drink & food in VIP-Lounge): 118 EUR
Drink voucher (1 Voucher = 11 tokens): 10 EUR
Parking ticket: 5 EUR
Day ticket + Camping: 52 EUR
Day ticket + Camping + Breakfast: 62 EUR
Tickets:
Ticketmaster
Line-up

Belgian artists
12h00 - 12h30 The Serious Five
13h00 - 13h30 Portrait B
14h00 - 14h30 Whispering Sons
15h00 - 15h30 De Brassers
International artists
16h00 - 16h45 Heaven 17
17h15 - 18h00 Scritti Politti
18h30 - 19h30 Sian Evans (Kosheen)
20h00 - 21h00 Marc Almond
21h30 - 22h45 Peter Hook and The Light (former Joy Division & New Order)
23h15 - 00h30 Alphaville
(followed by a surprise act, just wait and see)
Additional Info

Doors: 10:30
Start: 12:00
End: past midnight
Website:
http://www.w-festival.com/en/
Facebook:
https://www.facebook.com/W-Festival-513141505533140/
Event on Facebook:
https://www.facebook.com/events/1538499653145290/