Kulturpark, Deutzen, Germany
2nd to 4th September 2016
NCN 11 with Garden of Delight, Klangstabil, ASP, The Fair Sex, Zeromancer, Fixmer/McCarthy, L'Âme Immortelle, The Cassandra Complex, Agent Side Grinder, Kite, Hante, The Frozen Autumn, Winter Severity Index, Death in Rome, King Dude, Der Blaue Reiter, Torul, Solitary Experiments, DAF, Rotersand, Megaherz, Orgy, Pankow and many, many more

It is always at the farthest end of the festival season in autumn when a little festival takes place that over the years has gained considerable recognition amongst dark music lovers: The Nocturnal Culture Night (NCN) festival is celebrating its 11th year anniversary this year. And when it comes to anniversaries people everywhere tend to make this a really special thing. And once again there are several news…
The website changed, the line-up changed and there will be a warm-up party once more at 1st September 2016 with live bands WINTERHART and KLEQQ DJ EDITION. And the stages changed too. The Weidenbogen stage is relocated and situated now on the former area of the Medieval market. But no worries, also this year the festival will offer a Medieval market, located this time in front of the festival gates. As every year, the festival is taking place inside the boundaries of the picturesque landscape of the culture park in a little place called Deutzen (about half an hour away from Leipzig). It's not only the familiarity of the atmosphere that has shaped its reputation, moreover it is the vast assortment of bands the organizers come up with every year anew that differs quite a bit from the usual. The line-up is special as always and many great bands - well-known and rather unknown ones - will be playing to celebrate 11 years of NCN!
The line-up is complete now. As in recent years, it will be very interesting and diverse. Apart from the music there's, as always, a social program as well, including the traditional medieval market, readings and more that will make the festival a complete experience for all senses. Furthermore, this festival was a special family feeling, it is quite small even though there are now all in all four stages, the big one being a little Amphi theatre where you have a great view onto stage no matter where you stand.
Bands per Stage and Day (alphabetic order)
1st Stage - Amphibühne
Dark Empire
Garden Of Delight
Klangstabil
Tying Tiffany






ASP
Eisfabrik
In Good Faith
The Fair Sex
The Juggernauts
Unzucht
Zeromancer



2nd Face
Fixmer /McCarthy
L´ame Immortelle
Me The Tiger
The Cassandra Complex




2nd Stage - Parkbühne
Agent Side Grinder
Discodeath
Kite
Laura Carbone
Sonar



Bleib Modern
Hante
Liste Noire
Red Mecca
The Frozen Autumn



Black Light Ascension
Qual
Selofan
Winter Severity Index



3rd Stage - Kulturbühne
7JK
Death In Rome
Vortex




Hekate
King Dude
Morthound
Quellenthal



Der Blaue Reiter
Gerechtigkeits Liga
Seventh Harmonic



4th Stage - Weidenbogenbühne
Aeon Sable
Solitary Experiments
Torul






DAF
Herren
Miss Construction
NZ
Mystigma
Rotersand
The Exploding Boy

INTENT: Outtake
Megaherz
ORGY
Pankow
Synapscape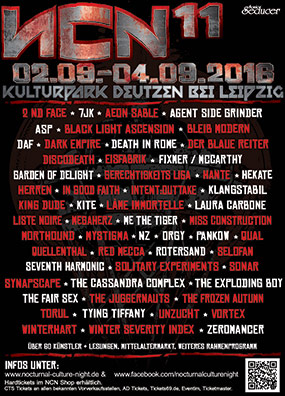 Tickets

For the NCN 2016, there will be provided a limited number of original tickets which can be ordered only via the NCN homepage. As in previous years, original tickets are provided for different ticket categories:
1-Day Tickets for Thursday (warm-up party) each 8€
1-Day Tickets for Friday, Saturday, or Sunday each 40€
Festival Tickets including Camping: 62€
Festival Tickets Kids including Camping: 39€
Festival Tickets without Camping: 57€
Festival Tickets Kids without Camping: 34€
Parking tickets can be purchased for 7€
Regular tickets are available online the following ticket shops like
www.eventim.de
.
Further Information is available at:
http://www.nocturnal-culture-night.de/