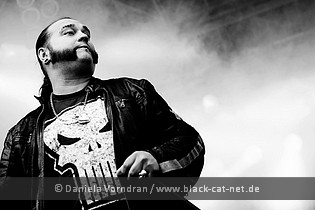 Werk 2, Leipzig, Germany
1st October 2016
Crematory and Support Battle Scream

This year, Germany's Gothic Metal pioneers CREMATORY are celebrating a special anniversary. Since 25 years, they fascinate their fans in Germany and all around the world. Since its foundation in 1991, the band released already twelve studio albums and many singles, EPs and also live recordings. Studio album number thirteen, 'Monument', was released on 15th April this year and on this album, the band returns to their metal roots.
Heavy Guitar riffs and hard drum grooves will give a powerful base for the twelve new songs. Together with the dark keyboard hooks and the typical mixture of growls and clear vocals in German and English , the fans will be excited by the dynamic of the new album. The recordings for the new album started in spring 2015. Before this, the band had to change the Line-up because Matthias Hechler left the band after seventeen years due to private reasons. Two new members came into the band: Tosse Basler for rhythm guitar and clear vocals and Rolf Munkes as new lead guitarist and clear vocals. Fortunately, the changes in the band ran all without problems. This brought a lot of fresh wind into the band and that pleases Markus Jüllich, the drummer, and also producer Kristian "Kohle" Bonifer.
The result is a powerful gothic metal opus, twelve songs with different degrees of toughness. Double guitar and solos drive the album forward. Misunderstood is the opener of the album and also the first video release. The song is the ideal introduction to the new album and also to our upcoming shows, says Markus. 'Save Me' is a ballade and presents a good contrast. It was written by Jüllich/ Bonifer some time ago and has now been approved for release in view of the new line-up. 'Monument' is the perfect name for the new album and also the cover artwork is monumental. For the third time it was created by the Hungarian Artist Peter Sallai. As in the producing collaboration of Markus Jüllich and Kristian Bonifer, the band has relied on tried and tested collaborators without repeating or indeed copying themselves.
Additional concert Info

Doors: 7:00pm
Starts: 8:00pm
Tickets: will be available for 27.70 euros plus charges via
Eventim
Info:
http://www.crematory.de
/
http://www.werk-2.de/programm/2016-10-01_crematory_ein_denkmal_fuer_die_ewigkeit-monument
Facebook Event:
https://www.facebook.com/events/1710186809247109/